Saudi Arabia has recently opened the world's first AI art hackathon titled, AI Artathon, in Riyadh.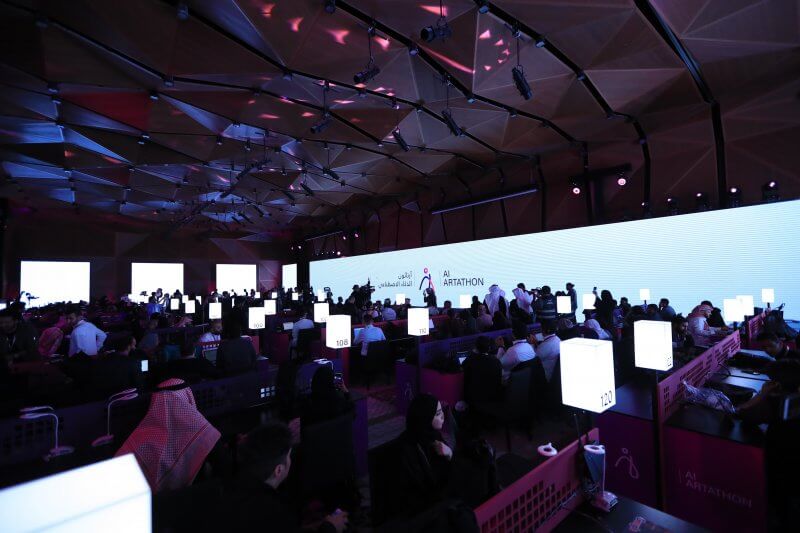 The event has gathered 300 experts in data science and AI, graphic designers and artists competing to create visual arts using artificial intelligence.
The AI Artathon will take place over three days, with competitors taking part in workshops and training sessions to enhance their skills, before forming teams to create concepts for AI Art.
The Artathon is an initiative of the Global AI Summit, organised by the Saudi Data and Artificial Intelligence Authority, to show the positive impact and creativity that can be empowered by artificial intelligence.
The top 20 teams selected from the Artathon weekend will then join a two-month program to create their final artworks. The top ten pieces will be selected for an exhibition at the Global AI Summit on 30th to 31st March, and the top three teams will split a prize fund $133,000 (SAR 500,000)
The Artathon received over 2,000 applications, from over 50 countries worldwide.
Dr. Abdullah Bin Sharaf Al-Ghamdi, President of the Saudi Data and Artificial Intelligence Authority, and Chairman of the Organizing Committee of the Global AI Summit, said that the Artathon is intended to highlight the creative potential of AI and its positive benefits to humanity, a key theme of the upcoming Global AI Summit.
"The AI Artathon is an important part of the Global AI Summit. We are very pleased to see all of the competitors coming together, from Saudi Arabia and around the world, to collaborate and create using Artificial Intelligence," said Dr. Abdullah.
"In the same way, the Global AI Summit aims to bring together global government and business leaders, AI experts, academics and investors so that Saudi Arabia can lead discussions on how we can all shape the future of AI together."
The Artathon programme is sponsored by the Public Investment Fund and is supported by strategic partners the Ministry of Culture and the Saudi Federation for Cybersecurity, Programming, and Drones.