Abu Dhabi Ports has signed a Memorandum of Understanding (MoU) with Dell Technologies that will see the organisations combine their expertise in maritime and IT to develop technology-based concepts, solutions and services specifically for the maritime industry.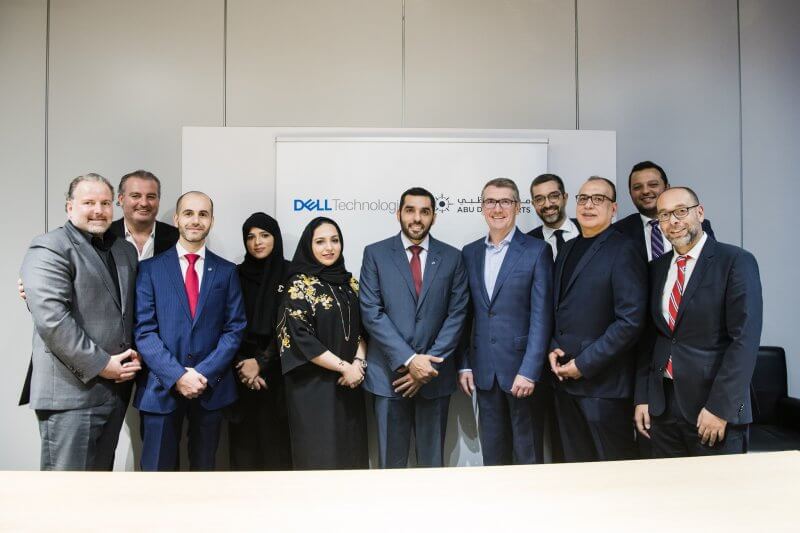 The MoU with Dell Technologies is designed to provide Abu Dhabi Ports with consulting services and help them leverage high value-added technologies such as blockchain, and artificial intelligence (AI) to fuel their digital transformation journey. In addition, this strategic partnership will also see an exchange of industry best practices and expertise needed to develop truly integrated smart ports that can better serve the customers and other stakeholders of Abu Dhabi Ports.
The agreement was signed by Abdullah Al Hameli, Executive Vice President – Corporate Support at Abu Dhabi Ports, and Mohammed Amin, Senior Vice President, Middle East, Turkey & Africa at Dell Technologies in the presence of Michael Dell. The signing took place at Dell Technologies World 2019 in Las Vegas – the annual flagship event hosted by Dell Technologies that allows decision makers, customers, partners and analysts to discover how to learn new capabilities, reinvent processes, innovate faster and create value that will change the game across industries.
Abdullah Al Hameli, executive vice president, Corporate Support at Abu Dhabi Ports, said, "At Abu Dhabi Ports, innovation is at the heart of everything we do. We are excited about the growth and opportunities created by the Fourth Industrial Revolution, and we are constantly striving to deliver products and services that transpose the latest emerging technologies into a maritime context.
"We are delighted to partner with Dell Technologies on our ongoing digital journey. Dell has long been a leader and pioneer in IT, and we look forward to combining their knowledge and insights with that of our own maritime experts. Together, we will explore ways to harness the most exciting technologies to make the future of maritime operations and services safer, more efficient, and more sustainable."
Mohammed Amin, senior vice president, Middle East, Turkey & Africa at Dell Technologies, said, "At Dell Technologies, we primarily aim to help organization build their digital future and transform their infrastructure. We are well positioned with end to end solutions to enable Abu Dhabi Ports modernize their IT infrastructure to efficiently operate their traditional applications as well as run their cloud native applications allowing them to unlock the potential of artificial intelligence and blockchain to develop new services.  It is a pleasure to partner with Abu Dhabi Ports to achieve their visionary step towards transforming the logistics and industrial services in Abu Dhabi and the UAE and lead the disruption of the maritime industry in the region."
Ahmed Auda, Managing Director Middle East, Turkey & North Africa at VMware, said, "As Abu Dhabi Ports drives ahead with its digitization agenda, VMware, a Dell Technologies company, is excited to provide cutting edge technologies that will help Abu Dhabi Ports leverage the full strengths of its network and tap into the benefits of fast developing technologies including cloud, AI and blockchain."