Dubai residents who wish to move, including for buying essential items, during the sanitation-related restrictions must apply for a movement permit, it was announced on Sunday.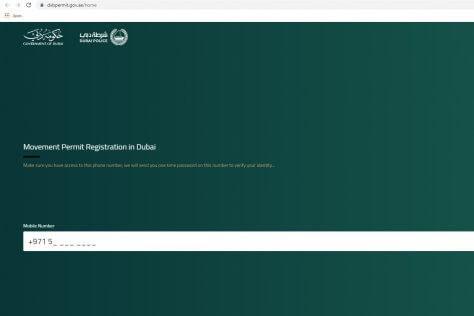 Following the decision of the Supreme Committee for Crisis and Disaster Management, the Dubai Media Office has unveiled the new online permit facility. The initiative is part of the latest step that the emirate is taking to stem the spread of the coronavirus (COVID-19).
Residents who want to leave their houses need to apply for the permit online where they will be asked to submit their identification details, car registration, their start address, destination and the timings you will be out of the house. They will also be required to detail the reason why they're going out.
However, the Dubai Media Office explained that those who are working in the vital and support sectors do not need a movement permit, but a letter from employers must be obtained in order to outline movements to and from work.
"The paper has to be presented if stopped by authorities. It can also be used to waive violations by radar," the Dubai Media Office said.
Supreme Committee of Crisis & Disaster Management in Dubai: The movement permit website is for general members of the public who are allowed to go out for essential needs such as buying food and medicine, medical emergencies and for COVID-19 testing. pic.twitter.com/FepsvrjR3w

— Dubai Media Office (@DXBMediaOffice) April 5, 2020
On Saturday, the Committee had decided to extend the national sterilisation programme to 24 hours a day in the emirate, effective April 4 onwards, for a period of two weeks, in a decision that is subject to renewal, as part of its precautionary measures to prevent the spread of the coronavirus.
The Committee also announced it has launched a 24×7 hotline number 800 737648 to answer all queries related to the round-the-clock sterilisation programme and the restrictions on the movement of people and vehicles.
The hotline will provide a reliable official source for accurate, trustworthy and up-to-date information on these recent measures. Members of the public can get immediate answers to their questions by calling the hotline. The service will provide information on topics such as the process for obtaining permits, sectors exempted from the restrictions and general information on the measures.