"We are living in a time where years are mere seconds in the life of technology," according to Khalfan Belhoul, CEO of Dubai Future Foundation.
Belhoul made his remarks at the first ever EmTech MENA 2018, a platform designed to address the future trends of technology in an evolving world, which was hosted by the Dubai Future Foundation and Haykal media.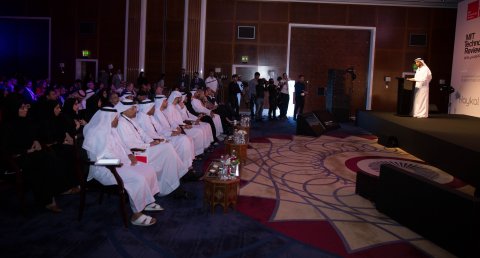 "What was impossible ten years ago, is becoming a reality today. Our wise leadership in Dubai have realised early on the need to be forward looking and having a future mindset that will take Dubai and its residents into the future," Belhoul added.
"We have realised that this task, while enormous, is not impossible. To accelerate the process of innovation and our push towards a better future, we at the Dubai Future Foundation, have launched several platforms and initiatives to support the development of a living, growing technology and innovation ecosystem, that is designed to bring together the creative minds from across the globe and work together in collaboration for the betterment of humanity," he added.
Organised by Massachusetts Institute of Technology publication, the MIT Technology Review the event was also attended by Omar bin Sultan Al Olama, Minister of State for Artificial Intelligence, Sarah bint Yousef Al Amiri, Minister of State for Advanced Sciences, Abdulla bin Touq, Secretary-General of the UAE Cabinet.
The diverse line-up of speakers concentrated on promoting dialogue between innovators, critical thinkers and technology leaders to be able to build sustainable and eco-friendly economies within the region, and in the overall global world. In attendance were world renown leaders such as Abdulsalam Haykal, CEO of Haykal Group, Saleh Alhashemi, CEO, Alef Education, Elizabeth Bramson-Boudreau, CEO, MIT Technology Review, Siim Sikkut, Government CIO of Estonia and several established MIT professors.
The conference covered pertinent global and regional issues such as artificial intelligence, smart governments of the future, cybersecurity, and building eco-friendly cities across the region. Discussions around the future of critical infrastructure, breakthrough of innovation, and the future of the world in 30-40 years was the highlight of the conference.