At Microsoft's annual IT event 'Ignite 2018' conference currently being held in Orlando Florida, the company demonstrated how AI, IoT and edge computing have become the foundation of the enterprise for a more secure, productive and intelligent workplace.
"In this era of the intelligent cloud and intelligent edge, businesses in every industry are looking for a trusted partner to help them transform," said Satya Nadella, CEO of Microsoft.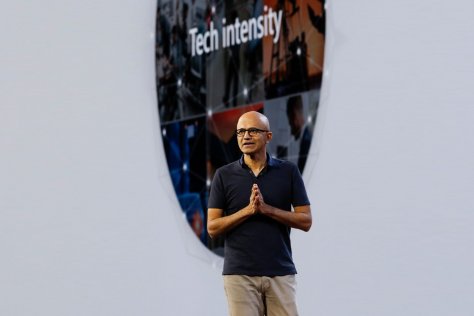 "We are pushing the bounds in AI, edge computing and IoT, while providing end-to-end security to empower every organisation to build its own digital capability and thrive in this new era."
Microsoft underscored the need for increased IT security and released an array of security programmes and products. Among them are Microsoft Secure Score, a dynamic report card that assesses Microsoft 365 customer environments and makes recommendations that can reduce breaches up to thirtyfold, and Microsoft Authenticator, which helps make secure sign-on easier for workers with features like password-free login.
The company also advanced its commitment to democratise access to AI through a new AI for Humanitarian Action programme aimed at harnessing the power of AI for disaster recovery, helping children, protecting refugees and displaced people, and promoting respect for human rights.
The tech giant also noted how every day organisations take precious time and resources away from their core business mission to defend against, and recover from, cyber-attacks. "They operate dozens of complex, disconnected tools, yet the gaps between those tools remain and threats get through. As the nature of the threats and the profile of the attackers continue to evolve, security teams struggle to keep up, and skilled expertise is scarce," the company said.
Microsoft highlighted its capabilities to empower IT to unlock the security capabilities of the intelligent cloud. To tip the scales in the cyberwar, the company has placed unique focus on three things: security operations at global scale that work not just for us but also for our customers, enterprise-class technology, and broad cybersecurity partnerships for a heterogeneous world.
At the event, Microsoft also showcased how it is making security a priority for customers by declaring an end to the era of passwords. The company's leadership also delve into how AI can be used for good, which is also the guiding the principles used in creating all the new AI and data products and initiatives shared today.
Microsoft also announced new IoT and Edge Computing products that are making everything from smart spaces to employees more efficient and productive. It also introduced, was the Open Data Initiative with Adobe and SAP to help companies connect, understand and use all their data to create amazing experiences for their customers with AI.