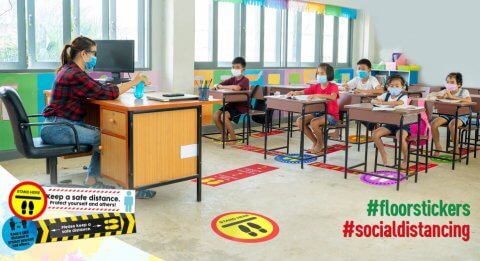 Following long periods of lock down, educational establishments across the globe are considering the steps that need to be taken to enable them to reopen their doors to students. While this might not be the news students, particularly kids, want to hear, it will be a relief for parents who want to see their children's education get back on track.
Teachers and lecturers will have a tough job on their hands making sure that their students follow the guidance relating to COVID-19. Parents dropping off and collecting their children will also need to be given specific instructions to ensure they are following necessary steps to prevent the spread of the virus.
Visual communications will be vital to helping school staff manage the situation safely and responsibly on a day-to-day basis. Clearly communicating guidance and measures in and around school premises will help to spread awareness and ease the strain on school staff who are tasked with policing the situation.
Back to school with a difference
The pandemic has been particularly disruptive for students and having to adjust to a new normality when they return to school or university could prove difficult for many of them. Potential measures could include smaller class sizes and reduced hours to help facilitate social distancing; a ban on the sharing of stationery and equipment; allocated desks to take socially distanced breaks; reminders to use hand sanitiser and wash their hands regularly; and the requirement to wear face masks.
With safety guidelines being implemented throughout lecture halls, classrooms, corridors, canteens, common rooms and right across the grounds, educational establishments need access to visual communications that can withstand both indoor and outdoor use.
Directional signage and floor stickers will be essential for controlling the flow of students through buildings. Floor and window stickers will also help to enforce social distancing in classrooms, marking where it is safe for pupils to sit. There will also be increased demand for worksheets and documents for each student, avoiding sharing of paper which can facilitate the spread of germs.
Printers fit for Education
Printing visual communication in-house will allow schools, universities and other educational establishments to reduce spend on print suppliers and react quickly to guidance as it changes. But making sure that students pay attention to these measures will require signage that is colourful and engaging.
OKI's multi-award winning C800 Series is ideal for cash strapped schools and universities that need a device that can handle everyday printing as well as a range of different materials for indoor and outdoor use including banners up to 1.3m long, and even waterproof and UV resistant floor stickers. With a compact footprint, the C800 Series produces professional print quality in vibrant colours for highly impactful attention grabbing signs.
Free social distancing media & graphics to protect students and staff
OKI is going a step further to support the education sector through the pandemic with free* social distancing media and artwork. In partnership with Floralabels, this initiative empowers nurseries, schools, universities and colleges to quickly and easily create their own self-adhesive floor stickers to help protect the safety of pupils and teachers. This will allow educational establishments to prepare for students to return following the summer break.
The complimentary designs will help to protect the wellbeing of students and staff reminder them to keep two metres apart. The floor stickers are available in three formats: a self-adhesive floor circle (285 x 285mm) and rectangular floor banners in two sizes (215 x 900mm and 297 x 1,320 mm).
Minimising disruption to education is vitally important. Schools and universities that can quickly and easily print high impact signage in-house and on-demand will help to get students back on track towards academic success.