CNME Editor Mark Forker secured an exclusive interview with Sahem Azzam, Vice President, Middle East, Africa & Turkey at Orange Business – the Enterprise division of the Orange Group, to learn more about the company's vision for the Metaverse universe, the importance of stress-testing those use-cases – and the industry verticals he believes will truly benefit from this new virtual technology.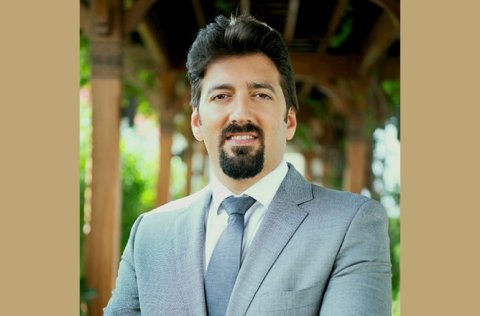 Sahem Azzam joined Orange Business in June, 2019.  
In a successful career spanning almost two decades in the ICT ecosystem, Azzam has cultivated a stellar reputation for being a fearless and innovative leader.  
During LEAP, which was held last February in Riyadh, Azzam presented the Orange Business vision for 'Metaverse Cities', which subsequently attracted huge interest onsite from participants at the conference.  
To find out more about the Orange Business view of the Metaverse, CNME sat down with the regional VP.  
In a candid exchange, Azzam began the conversation by giving the Orange Business definition of the Metaverse.  
"Undoubtedly, there is a lot of hype around Metaverse today, and a lot of different definitions of what the Metaverse is going to be. We accept the definition of the metaverse as a real-time, digital, persistent and immersive space inhabited by digital representation of people and things. Orange Business is only in the early stages of research and exploration on the metaverse. Our approach to understanding it is guided by our purpose. This will help us ensure we direct our focus towards a responsible metaverse. They are going to be virtual worlds that are extremely immersive, and each on a different scale in terms of interactivity. Users will be able to interact with the content of that virtual world, whether by engaging with a service, shopping or playing a game. However, it's also important to note that the immersive experiences in this virtual world will be largely based on real-life scenarios." said Azzam.  
During LEAP, Azzam delivered a presentation entitled; – Imagining the future of cognitive cities: Digital twins, the metaverse, and modelling the future.  
Azzam pointed out that currently the digital twin lacks immersion, and said this is where the Metaverse will bridge the gap.  At LEAP he showcased two Orange Business use-cases, one on education and the second on cognitive cities.  
"The first block of the Metaverse is the digital twin. A digital twin is a digital representation of a real-world entity or system – a complete simulation of real-life scenarios. However, a digital twin is not immersive.  This is  where the Metaverse comes into play, paving the way to mixed reality experiences, based on existing augmented reality tools, such as digital twins. During LEAP, we demonstrated two use-cases of Metaverse universes, which were cognitive cities and education. Our cognitive city use-case concentrates on three key elements, which are; user experience, a reduction in operating costs, and revenue generation.  These are critical components in making a use-case successful and sustainable," said Azzam.  
"What we do at Orange Business is take a real-life scenario and move it to a Metaverse universe virtually, before we commit significant investment and resources into the project. We have witnessed many businesses launch use-cases that are not financially viable, inevitably leading to a huge drain on resources. Once the resources into the project are scaled back, this leads to poor customer experience, and we know that once this happens, then the service will be doomed to fail.  We have seen that happen a lot recently." said Azzam.  
Azzam feels this failure was primarily down to relatively weak due diligence by businesses, which had simply not undertaken a rigorous testing process to determine whether end-users would pay for the service. 
"Businesses have been rather guilty of high expectations for the Metaverse, and the success hasn't materialised. However, what you need to do is stress test the use-case you have for the Metaverse universe first and, if the interaction is good and you determine that people are willing to pay for the service, then that's the stage when you implement in a real-world scenario and invest in the project. The immersive experience is a testing ground for developing impactful innovation in the real world – new services, behaviours, and uses," said Azzam.  
The Metaverse has been billed as the future of the internet, and a revolution of some sorts, however, Azzam believes that it will simply be an extension of the physical world, and said its success will very much be based on a hybrid model.  
"I firmly believe the Metaverse universe will always be a hybrid model because it's human nature to want and seek that physical interaction. For example, if you take a look at the retail sector, many brands have made their shops virtual and interactive. Essentially, what that means is you can visit the store virtually, try on the clothes you like, and interact with the customer service agents within the Metaverse, buy the products and get them shipped seamlessly to your house. However, that's the shopping experience that I may want but others may still prefer to visit the physical retail store and enjoy that shopping experience.  That's why I believe the Metaverse will always be a hybrid model. It will act as an enabler for retailers to provide that virtual experience but won't completely replace the traditional way we shop for some products," said Azzam.  
Azzam also highlighted how education will be another key industry vertical for the Metaverse.  
"I believe another key use-case for the Metaverse universe will be in the industry vertical of Education. It can connect an entire global ecosystem of educators to share teaching practices with students all over the world, and again, the virtual and immersive element of the Metaverse/hybrid model will make this a hugely effective tool for teaching and learning. Today, education is often measured by grades, but are grades a true and accurate reflection of a student's potential and measurement of performance? I don't think it is. With a Metaverse universe, and the amount of information it can collect, educators will be able to learn a lot more about a student's performance and potential," said Azzam.  
It has been well documented that in order to really accelerate the Metaverse, it needs to be regulated properly, and Azzam said the regulation, policy and frameworks required for the Metaverse, are ultimately going to determine its adoption and success.  
"Regulation around the Metaverse is going to be very important, especially in relation to data privacy. We know the data helps us make better decisions and gives us a better profile on each user that allows us to tailor the experience that caters to their needs. However, we know that because there are no regulations in place, a lot of this sensitive data can't be used, which obviously limits the full potential of the Metaverse, so this is an area that needs to be addressed. Another challenge is focused on the safety of the Metaverse. How far can we go into accessing these environments without encountering real problems, so it is critical that we build regulations and protections within the Metaverse. Kids are going to want to enter the Metaverse, so we need to know that when they enter that space it is safe. The Metaverse as we know it has not matured fully yet but there has been significant progress. There are still a lot of key components that have to develop to really make it a mature technology and accelerate its adoption in the public domain," said Azzam.  
"The Metaverse and the 'Internet of the Future' is still being invented but will help enrich our personal and working lives. Most importantly, we aim to help develop an open, safe, ethical Metaverse that puts the user's needs first and is socially and environmentally responsible," he added. 
Azzam concluded a wonderful conversation by highlighting what makes Orange Business such a unique company, and said the feedback from his presentation at LEAP, gave him huge confidence for the future.  
"There was a tremendous response during and after my presentation, and a real hunger and appetite to find out more about our concept of reimagining cities. The unique aspect of Orange Business is the fact that we work as a network and digital integrator to address customers' business needs. Our differentiated approach is based on our next-generation connectivity solutions and leverages our ability to orchestrate networks, cloud, and cybersecurity components all together to lay the foundation for a secured, flexible, and virtualized platform. Critically, it addresses customers' business strategy combined with their infrastructure strategy.  
"We work with different technology vendors, and we bring them together to select the best of breed for our customers to make sure that each solution fits their requirements that is in line with our use-cases. We don't push features, or certain products, we reassure the customer that the use-case they are looking for is exactly what they need. We have implemented smart cities and cognitive cities in the real world, so we know how to replicate these in the Metaverse, and we know how it should look and function.  We are excited about what the future holds for us and the region," said Azzam.