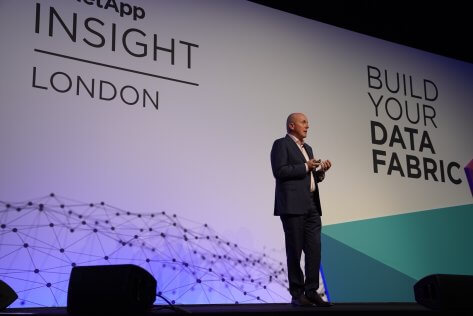 Companies have to embrace new ways of dealing with their data to remain competitive, a senior NetApp executive has said in a keynote address.
Speaking at the NetApp Insight London, conference, Anthony Lye, the company's senior vice president and general manager for cloud data services, said that digital transformation's effects were becoming ever more significant and affecting all types of organisations.
"We are now at a point unlike any other before. Digital transformation is the most important thing and the most scary thing that all of our companies face now," said Lye.
Illustrating this, Lye said that more than 60 percent of software engineering jobs were now outside the technology sector, because non-tech companies were having to employ more people with tech expertise.
"Every single company, every single industry now has to be a tech company. What's driving this is digital innovation," said Lye.
At the event at the O2 InterContinental Hotel in east London, Lye said that the tech revolution had widescale consequences, such as allowing start-up companies to build applications for as little as $1,000 or $2,000 that enable them to compete with large, established firms.
Examples include app-based food delivery firms, which have generated huge revenues and have led some restaurants to close their premises and focus on online orders instead.
Over the next five years, according to Lye, 500 million new apps will be created – more than have been created over the past 40 years.
A key challenge, said Lye, was extracting insight from data, something hampered by the creation of "enormous data silos" that affect the ability of larger companies in particular to compete. Smaller, more nimble organisations, by contrast, are less affected.
Within digital transformation, the United States-based Lye highlighted four key factors, namely that "speed is the new scale", that digital transformation requires IT transformation, that hybrid multicloud is the de facto IT architecture and that there has been a move from data centres to data fabric.
Data fabric – architecture and data services spanning on-premise and multiple cloud environments – is NetApp's central offering. The idea of the data centre is, said Lye, "arguably dead".
"Customers have to move beyond data centres; customers have to create data fabrics," said Lye.
He said NetApp developed its data fabric in response to customer demand, because, "If the customer wants to be in the public cloud, we'll let them."
"We see ourselves not just as a strategic vendor, but as a partner that can help [customers with their] data," said Lye.
Delegates heard that organisations, including parts of the United Kingdom's National Health Service, employ NetApp's architecture to increase the accuracy of diagnosis and prognosis and improve the way that patients are dealt with.
The pharmaceutical giant AstraZeneca, meanwhile, uses the "AZ Cloud", which is built by NetApp and which consists of multiple clouds, both public and private, encompassing the biggest cloud providers, including Microsoft Azure, Amazon Web Services (AWS) and Google Cloud.
This ties in with decisions that NetApp made to ensure that its platform was "as good on [for example] AWS as on-premise".
Scott Hunter, AstraZeneca's global infrastructure director, said the company would continue to work with NetApp in a way that would "enhance … innovation".
"For us, it's all about driving the data as fast as we can," said Hunter.
During the keynote session, the availability of Azure NetApp Files, a service for dealing with enterprise file-based workloads that was launched last year, was highlighted.
This is said to allow companies to move smoothly between public and private clouds and on-premise data centres.