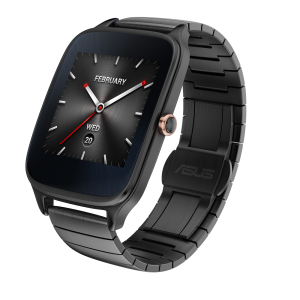 ASUS has announced the launch of its second smartwatch, the ZenWatch 2.
ZenWatch 2 is available in three colours — Silver, Gunmetal, and Rose Gold. The ASUS smartwatch also has 18 different strap material and colour combinations, including a Swarovski patterned leather strap, and the new FaceDesigner smartphone app that lets wearers create 50 different watch faces with customised style and functionality.
It is equipped with a Qualcomm Snapdragon 400 processor, which according to the vendor, can serve as a smart assistant for Android and iOS devices, providing wearers with quick and convenient means to view of incoming calls, messages, notifications and other important notifications without having to remove their phone from their pocket or bag.
The device also comes with a range of software features, including ASUS ZenUI apps, Business Helper, FoneHelper, Remote Camera, and ZenWatch Message.
In addition to software improvements, the company highlights that ZenWatch 2 comes with an enhanced battery that allows up to two days of use on a single charge. It also comes with an all-new magnetic charger which gives the ZenWatch 2 and 35 percent faster battery recharge times than the previous version of the watch.
The new wearable device is powered by Android Wear and is now available in the UAE for AED 799.