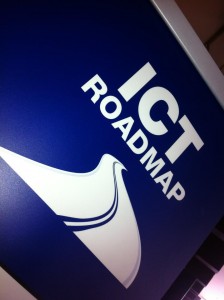 ICT Roadmap 2012 today brought together leading IT professionals to discuss the top trends and issues affecting enterprises in the Middle East.
The event, held at The Address, Dubai Marina and hosted by CPI and CNME, was dominated by talk of cloud and virtualisation in a day that provided interesting insight into the decisions CIO's face in the digital age.
Jeevan Thankappan, senior editor at CNME, kicked off the event with a welcome note, before handing over to the first keynote speaker, Sridhar Iyengar, VP at ZOHO/ManageEngine.
Iyengar spoke of the options enterprises face when opting for cloud and discussed the differences between public, private and hybrid models. Generally, Iyengar appeared to favour the hybrid model, which involves some areas of a business being in the public cloud and some on-premise. "With a hybrid cloud, access to remote cloud is fully transparent to private cloud users and it enables the scaling of capacity to meet demands," he said.
Dr Jassim Haji, director of IT at Gulf Air, spoke of the airlines personal experiences with cloud, before Samer Semaan, technology consultant at EMC, discussed enterprise storage strategies.
Cloud continued to be a hot topic of the day as Ahmed Rizk, business development manager at Dell ME, discussed the benefits of managed solutions in the virtual era and highlighted 'serverisation' as the direction many businesses are heading.
Arun Tewary, VP of IT and CIO at Emirates Flight Catering, provided some temporary relief from the cloud subject with an insightful discussion into post-ERP organisation, followed by a blunt scrutiny of security vendors by Jude Pereira, MD at Nanjgel Solutions.
"Current defence technologies all fall short of complete capability to prevent the attacks we are seeing. At the end of the day, threats are on the rise and customer confidence is dropping," Pereira said.
Whilst it was perhaps only right the day ended on a cloud note, it did not come in a typical or expected way. George DeBono, GM at Red Hat, said he refused to be sucked into the phenomenon of cloud.
"I'm not going to tell you how great cloud technology is, because it's not. Cloud is really nothing more than the latest buzzword of how I deliver data to clients. At some point there will be another delivery platform where you may want to bring your cloud back in and no longer be there," DeBono said.
CNME tweeted live all day from the event, which you can catch up on by following @ComputerNewsME.
A full analysis of ICT Roadmap 2012 will feature in the April issue of CNME.