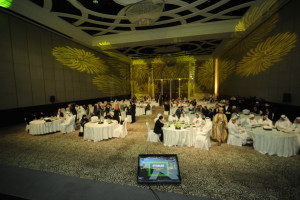 Etisalat, in partnership with CNME, is hosting its 'Empowering the UAE with secure ICT and digital solutions' conference this Wednesday at the Ritz Carlton Abu Dhabi Grand Canal.
The government-focused workshop will touch upon all the key IT and telecom services required to meet the demands of a smart government ICT.
The requirements needed to create a platform underpinned by digital technologies and services, that will drive down costs and roll out agile methods across the public sector will also be discussed.
The keynote address will be provided by Abdulla Ebrahim Al Ahmed who is Etisalat's Senior Vice President for Government Sales.
Other speakers include AbuBaker Mohamed Al Marzooqi, who is Senior Director/Customer Support & Service Delivery, and Senior Director of Security Services, Kamran Ahsan.
As the leadership of the UAE has defined a vision of transforming the nation into a digitally empowered, smart economy, a roadmap has been laid out for the nation to move forward with this strategy.
Government entities in the UAE are assigned with the task of ensuring this vision is delivered in a timely and effective manner and are working on transforming public sector operations to align with smart governance initiatives.
In a world of ever-increasing digital demands and shrinking budgets, government CIOs are under immense pressure to plan a framework that enables them to roll out large-scale IT projects that are on time, within budgets to deliver ambitious expectations.
It has become imperative for government CIOs to give greater focus to the faster, more agile digital aspects of IT, including cloud, mobility, increased information sharing and new service delivery models maintaining the high level of security required for government operations.