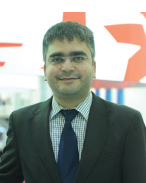 Having been a participant at GITEX for a long time, Fujitsu considers the event as a very important platform for engaging with industry players in the technology space.
This year, aside from its own stand, the company also has presence at the SAP, Oracle and ForeFront Technologies stands. Which according to Mohit Pal, Datacentre Specialist, Middle East, Fujitsu, is part of their strategy in ensuring that they get to extend their reach to a wider audience.
"Primarily we are focusing on our SAP solutions," says Pal. "We are showcasing our solution for supporting the SAP HANA platform which is called PRIMEFLEX. Apart from that we are also highlighting our data centre products, servers and storage solutions. We also have the PRIMEFLEX integrated solution for VMware EVO:RAIL."
According to Pal, another major objective that Fujitsu has for participating at the mega technology event is spreading awareness about their enterprise channel offerings. He also shares that they'll be engaging with their partners about a new channel strategy. "We have attained a number of good references in the region and have acquired new accounts over the last year. This time, through the new channel strategy we aim to expand our market penetration and further develop our enterprise channel business."
He also underlines that the ICT industry is heading towards tremendous growth, which presents a lot of opportunities for Fujitsu. "Virtualisation, integrated solutions, and storage and backup will be the most important trend for Fujitsu. We will continue to develop our business in this space. Having integrated solutions are key in developing this trends and we are very much focused on ensuring that we stay on top of those technologies," says Pal.
The Middle East market is a very important market for the company, explains Pal, "We are not focused on the trading side of the industry, instead we are centred on captive consumption. In that sense, we believe that the business is at a growing phase. Every year we have been experiencing double-digit growth in this market and we are anticipating for this to continue in the coming years."