GE and Aluminium of Greece, a Mytilineos Group subsidiary, have signed a 10-year agreement in Dubai to implement the worlds first-of-their-kind digital smelter solutions.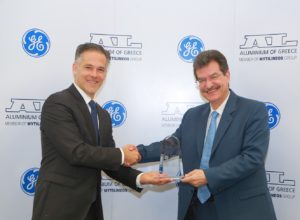 The aim of the partnership is to enhance AOG's smelting process by lowering raw materials' consumption, decreasing energy consumption, and reducing pot leakages. By creating a digital twin of the aluminium plant, the company can consistently monitor  a variety of factors in order to maximise productivity, while utilising the solutions predictive analytics to predict potential issues and reduce downtime.
The agreement was signed by Dimitris Stefanidis, CEO of Aluminium of Greece and Joseph Anis, President & CEO of GE's Power Services business in the Middle East and Africa, at the GE Oil and Gas Facility in Jebel Ali.
"As the largest vertically integrated bauxite, alumina and aluminium production and trading unit in the European Union, we are constantly looking at innovative technologies to enhance our performance standards," said Dimitris Stefanidis. "With GE's digital smelter solutions, we are setting a global first for the aluminium industry that will contribute to our operational efficiency and set new benchmarks in the sector."
The project will be executed by a team of engineers and developers based at the GE Power's Digital Smelter Center of Excellence (COE) in Dubai, while the facility that the solutions will be implemented is located in Agios Nikolaos, Viotia, Greece.
"By bringing together the strengths of our multi-locational teams and GE Power's Digital Smelter COE in Dubai, we will collaborate with AOG to create a new chapter in the history of smelting operations," said Joseph Anis.
GE claim that a one percent increase in efficiency of aluminium smelter operations can contribute to an annual global savings of US$970 million across the total cost of production, US$936 million in output increase, and US$464 million in operations and maintenance costs.
In the GCC region alone, the same one percent increase translates into US$28 million in savings on operations and maintenance. Today, the region's aluminium smelting industry accounts for up to ten percent of the world's total production.
GE has supported AOG's growth and development over the decades, having supplied it with advanced technologies and signing multi-year agreements to cover the maintenance of gas turbines and associated generators.
"Our partnership with AOG dates back to the 1990s, but the company understands the need to digitise if they are to set themselves apart from others in the industry," said Dr Lana El Chaar, General Manager (MEA), Professional Services, GE Power. "When we first decided to move forward with this agreement, we sat with AOG representatives and identified specific KPIs to determine the level of efficiency we could help them with, and how much downtime we could save them. Predictive analytics have a heavy involvement in this solution, which allows us to notify the company of any potential problems in advance."
The digital solutions will operate on GE's cloud platform, 'Predix'. Virtual sensors will facilitate the ongoing evaluation of parameters such as temperature and chemistry that are not ordinarily monitored continuously. This, in turn, will help to anticipate the health and condition of the pot, providing timely monitoring reports on the operations of the plant.
"We will be able to recreate an actual smelter using artificial intelligence and physics-based models," stated Bhanu Shekhar, Chief Digital Officer for GE Power in the Middle East and Africa. "This is a living digital model that will continuously generate smelter data, and will be a game changer in helping to address the challenges of power usage and the consumption of raw materials in the smelting industry."