At its inaugural participation at GITEX, Interactive Intelligence is showcasing its cloud-based platform, PureCloud, which was launched in the region earlier this year. The platform delivers customer engagement, communications and collaboration functionality.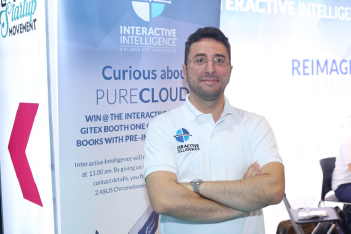 Safwat Al Shawaf, KSA Territory Manager, Interactive Intelligence, said, "Our objective at GITEX is to push PureCloud's uptake by highlighting how this high-value, low-risk cloud solution can offer a fast return on investment and lead to better customer engagement. Another goal is to communicate to the market that Interactive Intelligence remains a leader in this space and reinforce our partners' and customers' confidence in us.
"GITEX is a great opportunity for us to engage with both existing and new partners along with customers. It is also a good platform to display our latest technologies to the market."
According to Al Shawaf, PureCloud is intended for organisations of all sizes, therefore the regional ICT trade show offers an ideal platform to reach out to a larger audience.
He adds that the market response for the cloud-based platform has been encouraging, as the company has already sold the solution to several customers over the last few months.
"Partners also have a tremendous opportunity with PureCloud as the sales cycles are quicker. They don't have to worry about dealing with customers for months to close a deal.
He added that upcoming trends in the region include solutions around video, speech analytics and voice authentication technologies.
"We are seeing requests around these trends from our existing customers."