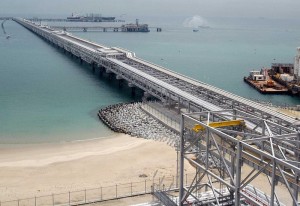 CommVault, today announced that Kuwait Petroleum Corporation (KPC) has selected CommVault Simpana 9 to meet expanding business, compliance and data management requirements.
According to KPC, Simpana Backup and Recovery software delivers the performance, reliability and manageability to better protect critical data, which they expect will double within a year, while accommodating an ever-shrinking backup window.
With Simpana software, KPC reported being able to safeguard vital applications, including Microsoft Exchange and Oracle ERP, along with an expanding VMware environment, and enabling data recoveries in minutes, not hours or days, as it took previously.
KPC's IT team also relies on Simpana Archive software to streamline management of 15,000 Microsoft Exchange mailboxes and has reported a 30% decrease in storage consumption, the company said and according to representatives this significant decrease in storage consumption is in part due to CommVault's embedded deduplication software which has reduced redundant data by 60%.
"Prior to CommVault software, we faced a lot of difficulties managing our backups and restoring data was a nightmare, so we had a poor RPO and RTO window. Not any more, though, as Simpana software's intuitive GUI makes backup and recovery as easy as a click of a button", said Qais AlDoub, senior IT systems analyst, Kuwait Petroleum Corporation. "So many of the applications we protect with CommVault technology are crucial to day-to-day operations, and we could risk millions of dollars if we lost any of this data. Thankfully, we're fully confident in Simpana software, so backing up and recovering data is worry free."
According to him, Simpana software delivers data management improvements across the company's entire data centre comprising both physical and virtual servers. This has proved to be highly beneficial given the fact that KPC has virtualised nearly 70% of its environment, it was reported. The company also credits CommVault's centralised, unified management platform with increasing operational efficiencies through simpler, faster daily backups and restores. Meanwhile, integrated reporting has streamlined compliance audits in keeping with KPC's evolving information governance requirements, representatives of the company said.
Khaled Al-Faili, senior IT systems analyst, Kuwait Petroleum Corporation said, "CommVault Simpana software suits our data management needs perfectly. As the only truly single platform solution, the software enabled us to consolidate multiple operations under one umbrella, which is extremely important. It's like we dumped our clunky phone, fax machine and computer for a single, high-tech mobile device."
"We expect to double our storage capacity in the near future and are totally confident that Simpana software will scale to meet our growth objectives while continuing to help us increase operational efficiencies", Al-Faili concluded.