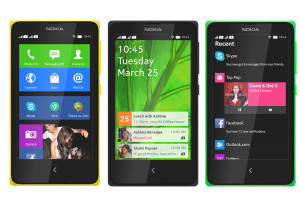 Nokia has released its Nokia X Android smartphone family – which has a tile-based interface inspired by the Lumia family – in the UAE.   
It comes with Fastlane, a screen which lets people switch between their favourite apps more smoothly.
Nokia also announced operator billing payment option for Etisalat and du customers in UAE. Etisalat and du customers with Nokia X phones will have the option to purchase all the latest applications, games and premium content from the Nokia store and pay directly with their mobile account.
The purchased applications can either be charged as part of the customer's monthly bill for post-paid accounts, or against their pre-paid credit balance.
People can access curated, quality-tested apps from Nokia Store, more than a dozen third-party app stores and by sideloading. All devices are also pre-loaded with a variety of very popular third-party apps and games.
"We believe this unique combination will resonate with consumers around the world and set a great precedent for the level of quality that can be achieved in the fast-growing, affordable smartphone segment," said Vithesh Reddy, General Manager, Nokia Lower Gulf.
The phone features HERE Maps, with true offline maps and integrated turn-by-turn navigation, and Nokia MixRadio for free music streaming and downloadable playlists. The Nokia X also introduces Microsoft's cloud storage using OneDrive.
The first offering is the Nokia X, which is 10.4mm thin and features a 4" scratch-proof display. The device runs on the Nokia X Software Platform and is powered by a1Ghz dual core Qualcomm Snapdragon processor.
The Nokia X+ takes all the benefits of the Nokia X and gives it a performance boost for power users, including an additional 256MB RAM and more storage with a 4GB microSD card in-box.
Nokia's XL is the premium offering in the family, boasting a 5" display, 5MP rear-facing autofocus camera with flash, and 2MP front-facing camera. The Nokia XL features the same performance boost as the Nokia X+ but on a larger format.
The Nokia X family features two screens: home, which features a tile-based design and Fastlane. Fastlane is a record of how people use their phone, capturing a log of user activity.
The dual SIM Nokia X will is now available in the UAE, priced at AED439.