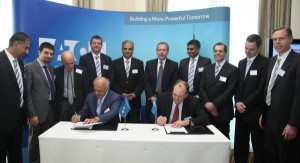 Eaton has signed a memorandum of understanding (MoU) to appoint Saudi Arabia's Saudi Electronic Trading Company (SETRA) as its local systems integrator in the data centre market.
In partnership with SETRA, Eaton will provide localized Uninterruptable Power supply (UPS) solutions to the Saudi Arabian market.
According to the company, data centres are the backbone of most businesses and as such require mission-critical power management solutions, including backup power protection and distribution equipment, to ensure a steady flow of high-quality power. A reliable power supply is also vital to mitigate the risk of downtime and loss of valuable data. In partnership with SETRA, Eaton will be in a position to deliver solutions to these key needs to data centre customers across the Kingdom.
"Reliable power is an unquestionable need in today's society, whether for business or personal requirements," said George Saikali, Deputy General Manager, SETRA. "Our partnership with Eaton brings together local and international expertise that can deliver the very best in power management for the fast-growing and strategically important data center market within the Kingdom."
"Saudi Arabia remains an important and dominant market for Eaton in the region," commented Frank Ackland, General Manager, Eaton Middle East. "SETRA's expertise and heritage in the local market provides a perfect alignment with our solutions in the data center segment and we look forward to strengthening this relationship further for the future."