Global technology pioneer Elon Musk today announced that self-driving and electric vehicle manufacturer Tesla is now accepting online orders for its Model S and X vehicles in the UAE.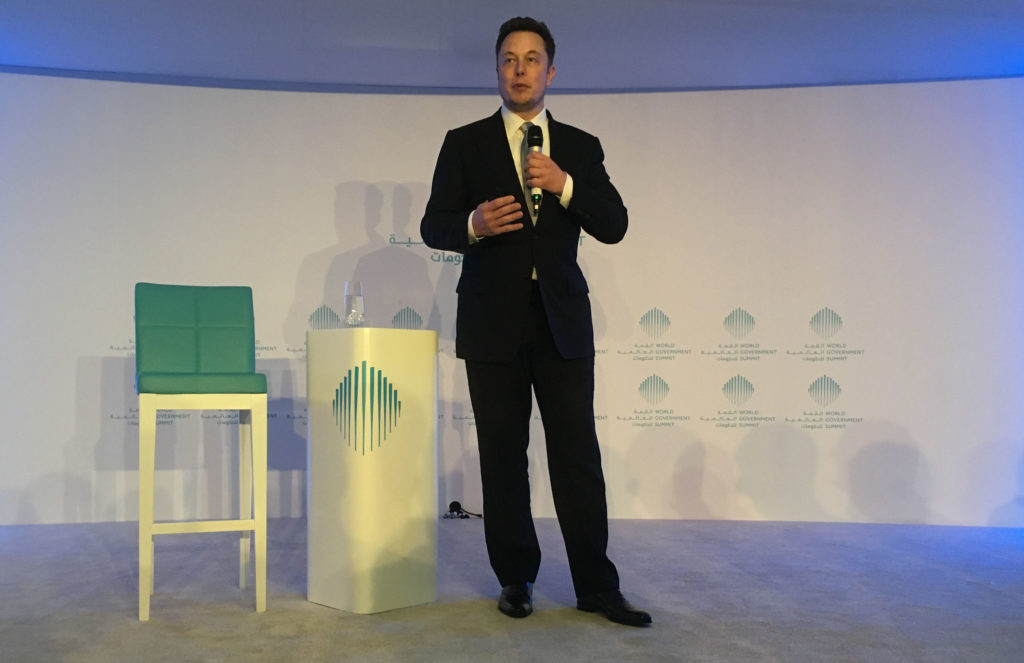 Speaking at a press conference at the World Government Summit in Dubai, the firm's CEO said that first orders of its Model S and Model X vehicles are expected to be delivered in Dubai this summer.
The auto manufacturer has equipped its vehicles with software that enables them to be self-driven, at a safety level "substantially greater" than that of a human.
Musk highlighted his ambitions for Tesla to play a huge role in helping the UAE reduce its carbon emissions in the near future through the use of electric cars.
"The UAE has a target of producing 25 percent of its energy from solar sources by 2030," he said. "The government is aiming to make the country a beacon for sustainable energy. They're making a $160 billion investment to support that goal, and I really believe the country will look back and say that was a smart move, and will serve as an example to countries around the world."
Musk also discussed the firm's plans to build a "gigascale" factory in the near future, which would be the "by far the biggest building on earth" and with a volume great enough to house "eight Burj Khalifas", with the site set to be housed in Nevada.
He also conceded that the company had a long way to go on its journey. "Although Tesla gets a lot of press, we're ultimately tiny," he says. "Our fleet only covers 0.01 percent of the vehicles on earth, and electric vehicles only make up 0.2 percent of the world's total."
The launch of the UAE's dedicated online platform is supported by a pop-up store in The Dubai Mall, Tesla Ranger service and a service centre now under construction near Interchange Two of Sheikh Zayed Road which will open in July. In addition to Dubai, Tesla will open a store and service centre in Abu Dhabi next year.
Customers in the UAE can now visit the online design studio to customise and order the vehicle that best suits their lifestyle.
Tesla has opened two Supercharging locations at The Last Exit in Jebel Ali and in Masdar City, and has plans to open five more by the end of 2017, as well as introduced locations in Bahrain, Oman, Qatar and Saudi Arabia.
The UAE is already home to 26 of Tesla's Destination chargers, which are largely located at hotels and shopping malls. Tesla will add more than 50 additional Destination charging locations by the end of the year.
"We want to ensure that our Supercharger network enables travellers to go wherever they want," Musk said.
With a New European Driving Cycle (NEDC) – a measurement of an engine's fuel economy and emission levels – range of up to 632 km, Tesla's Model S accelerates from 0-100 kilometres per hour in 2.7 seconds.
The Model X, meanwhile, features standard all-wheel drive and has NEDC range of up to 565 km on a single charge, Model X fits an active lifestyle and includes ample seating for seven adults and all of their gear. Model X is incredibly fast, accelerating from zero to 100 kph in as quickly as 3.1 seconds.
Prices start from AED 275,000 for Model S and AED 344,000 for Model X.