CPI Media Group, in conjunction with Exclusive Networks and cybersecurity vendor Rubrik, hosted a virtual roundtable last month which examined how Rubrik's suite of innovative solutions were helping enterprises become cyber-resilient during COVID-19.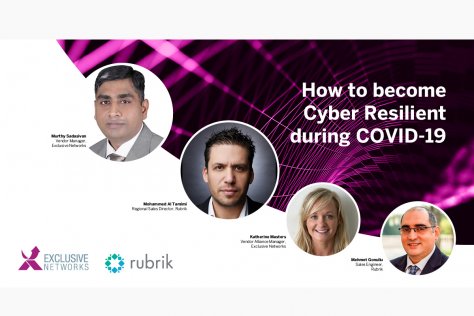 Murthy Sadasivan, Vendor Manager, Exclusive Networks opened the roundtable by briefly documenting the details of its partnership as one of Rubrik's distributors in the region.
"We essentially assist the channel partners of Rubrik and its enterprise customers. Rurik's flagship cloud data management solution helps customers with their data compliance and data protection for their on-prem and cloud infrastructure. We go to market together to enable the channel partners and system integrators in the region can effectively support all their customers in terms of protecting their data," said Sadasivan.
Mohammed Al Tamimi, Regional Sales Director, Middle East, Turkey, North Africa, Rubrik, delivered his presentation and disclosed that when they first entered the market they started completely from scratch.
"We had no customers, no partner networks or distributors. But in just over 3 years we now have between 400-450 customers that are using Rubrik technology across the Middle East region. The growth we've enjoyed has been phenomenal," said Al Tamimi.
Al Tamimi pointed out that the evolution and progress of data management from the 90's until now has been very slow and that there has been a lack of innovation in this area.
"Nothing much has changed. You still need to have this infrastructure to have a proper back-up and you still need back-up software. Many enterprises have been trying to improve their back-up infrastructure by changing these silos – but they switch vendors hoping that will improve performance but end up encountering the same pain points," said Al Tamimi.
Al Tamimi disclosed how Rubrik took all this infrastructure and removed it to introduce their converged appliance that scales out.
"It is a hyper-converged back-up solution which means that inside it you have four nodes. We have one appliance and within that we have the back-up software already built-in from Rubrik, which also eliminates the concept of licensing," said, Al Tamimi.
The Regional Sales Director also highlighted the exponential growth and sophistication of ransomware attacks on a global scale since Rubrik was formed in 2014. The financial damage of ransomware attacks globally in was $300m in 2015, but that rose to $12 billion last year and is being projected to reach $20 billion by 2020.
"The main reason we do back-up is to be able to restore, either following a ransomware attack, disaster recovery – or maintaining business continuity. Ransomware recovery is critical – and attackers are attempting to further capitalize on the ongoing COVID-19 pandemic as many businesses are extremely vulnerable in the current climate. Each appliance of ours has built in flash and we give you 30,000 IOPS to be able to restore your data faster. In our appliances our intelligence is not in the hardware it is in the software," said Al Tamimi.
Al Tamimi illustrated the nuances in its enterprise solution compared to that of their rivals – and said its ability to encrypt its metadata differentiated Rubrik from others in the market.
"Our enterprise back-up solution is very simply to set-up and easy to deploy, and it is ultimately built for security. If you're backing-up your data, but you're not able to protect it, then we're not doing our job. Our job is to not only back it up but also protect it. What differentiates us from our cybersecurity solution providers is we start encrypting the data as soon as we start backing it up. It's a full end-to-end encryption. The key difference between us and other vendors is that they encrypt their data, but they don't encrypt their metadata, so their file system is not protected. Our file system is immune, and our data is encrypted," said Al Tamimi.