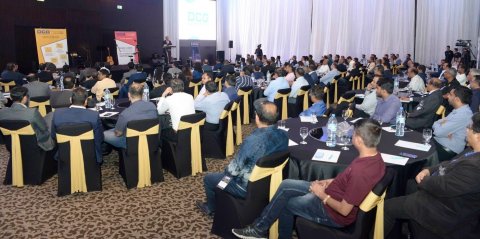 Dubai Computer Group (DCG), together with consulting and business solution provider NAVO has recently hosted a networking evening at Le Meridien Hotel, Dubai, under the theme 'Respond and Future-Proof to grow."
The event brought together over 200 attendees who had an opportunity to network and address the challenges and impacts of rapid pace of technology evolution.
During his welcome speech, Dharmendra Sawlani, President, DCG Dubai, said, "Technology shift and decentralisation are the new realities that we face today. Moving on, we need to adopt a business model that will fit the new world order. While accepting these realities, we must work together to make the vital changes within ourselves as well as our businesses, to be able to face a future full of new challenges."
"In the past, DCG has organised many events bringing motivational speakers, skill development programs, specialist and consulting advisors from various fields. Moving forward, we are convinced it is time to look inward and move from motivation to direction and turn disruptions into opportunities," he added.
The collective atmosphere of the informative event can best be summed up by the headline speaker Vasudevan Kidambi, Managing Director, NAVO, who saw a future dominated by new and innovative technology. He said, "New technology is going to be a way of life and most importantly, retraining will be constant in the business. The market will not find a future for us; we must find a future for ourselves."
Suchit Kumar, General Secretary, DCG said, "Disruptive innovation has alerted the business ecosystem and we need to radically shake up the way we think to keep our business future proofed."
The event was Co-Sponsored by Lexmark and ASBIS Middle East was the support partner for the evening.
Khalaf Al Otaiba, Chairman, DCG on his closing remarks thanked all members for their support and active participation in all of DCG endeavors.
Founded in August 2007, DCG was established to represent the interests of the computer industry in the city of Dubai. The Group is run by an elected Board of Directors and bridge the gap between hardware and software manufacturers and dealers, uniting them, helping forge new trade alliances forming an invaluable network in the industry.