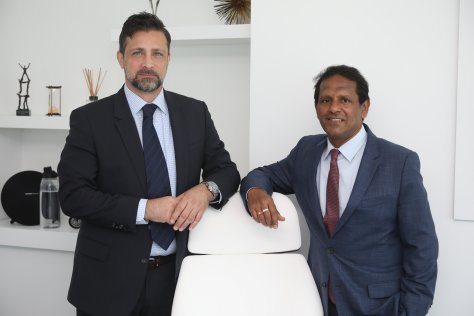 Reseller ME caught up with the charismatic duo Ramzi Itani, Vice President – MEA, Barco and K.S. Parag. Managing Director, FVC, to find out more about Barco's new ClickShare conference and how important a role FVC plays in Barco's overall market strategy as a distributor.
Can you tell us more about the ClickShare Conferencing? How is Barco's new ClickShare Conference solution revolutionising meetings and wireless conferencing?
Ramzi: ClickShare conference came as an outcome of listening to our customers, understanding their needs and expectations, tackling their challenges and most importantly, aiming towards the future. Over the past few years, we've realised that 'Bring Your Own Device' has changed a lot in the way IT operates, and today, particularly in the UAE and Saudi alone, we are seeing a huge explosion in meeting rooms technology. We launched the original ClickShare seven years ago, and constantly innovated to stay ahead and maintain our market leading position in the market. We wanted to come up with a product that is both technology agnostic and extremely easy to integrate at the same time.
The new ClickShare Conference range consists of three different models – the entry level CX-20 for small meeting rooms and with limited features, the CX-30 for standard meeting rooms and interactive features such as whiteboarding, annotations and collaboration, and lastly the high-end CX-50 for large meeting rooms and premium AV collaboration experience with superior audio and video quality.
Parag: Barco was the first to come up with ClickShare conference in the industry, and they did a brilliant job not just revolutionising the conference space, but also making it seamless, enabling users to kick-start a meeting. Every customer is looking to integrate video as part of their meeting in their digital transformation journey today. That is exactly what Barco did to transform the company's expedience of bringing complete collaboration, including integrated video and others features combined.
What is the state of the visualisation and collaboration solutions market in the Middle East and Africa (MEA) at the moment?
R: The UAE and Saudi are two large markets in the region with several upcoming projects including the EXPO 2020, Museum of the Future and Vision 2030 to name a few. Such projects have propelled the visualisation and collaboration solutions market and bolstered the opportunities for projection, LED and LCD technologies in the region. Barco has three divisions – enterprise, entertainment and healthcare. We are experiencing an increased demand in the healthcare sector for visual collaborative technologies and services. Hospitals today are looking to conduct effective operations and deliver world-class healthcare services. For this purpose, the video and images must be of highest possible quality for the medical heads and their staff to make reliable medical decisions, especially with the rise of minimal invasive surgery. Barco has had the honor of being a part of this growth in the UAE contributing with its suite of world-class visualisation and laser projection solutions.
The workplace is undergoing a fundamental transformation. Can you tell us about your go-to market strategy for these solutions?
R: Our strategy at Barco is tailored to suit every market need. We used to operate with very few partners, system integrators and distributors and today, through distributors like FVC, we are targeting specialised resellers and SIs with a comprehensive solution and a widespread of customers. The objective is not to sell more but to offer a solution which will benefit the customer in the future. One such solution is the new ClickShare conference. Users can now bring their own device and conference wirelessly using any service in less than seven seconds – miniscule in comparison to the average setup
P: When we talk about digital transformation, particularly in a meeting room, the two things that come to mind are simplicity and collaboration, and Barco's ClickShare conference addresses these needs. Geographically, we're looking to make sure that we have a larger footprint across region to expand the business in terms of how we collaborate and take Barco's ClickShare conference to the next level.
How is Barco working with the traditional channel and systems integrations, and what issues are impacting their businesses at present in MEA?
R: Our approach today is to partner with more focused resellers and system integrators who are able to understand the customer's requirements. At Barco, we started implementing this shift from a year and a half today, and our business has expanded almost 50 percent in the MEA region. Our reseller network has been developed through a strong partnership with leading technology solutions providers across the MEA region.
Barco and FV have been teaming up to make meeting rooms in the Middle East smarter since 2013. How important does a role FVC play as a distributor in Barco's overall market strategy?
P: Barco is a pioneer in conference and collaboration solutions market, and FVC is excited to be the first to partner with Barco to introduce the ClickShare conference solution to this region. Together we have educated the marketplace in terms of creating demand for the solutions and technology. At the same time, we are increasing our channel partner base, who will potentially be willing to help reach bigger verticals and larger markets for us. Our strong regional presence coupled with our wide customer base will further boost Barco's product reach and driver customers' digital transformation initiatives.
R: As a market leader in technology solutions with a strong geographical reach, FVC has served as the perfect partner for Barco in the region. FVC approaches and stimulates various channels through training, incentives, promotion, seminars and promotional actions, offering complete solutions as new technologies come in. Additionally, FVC's AV expertise, which you don't find so easily in the market today, adds the security layer in the organisation, which again is a challenge into the evolving IT infrastructure.
What are your plans for growing this partnership further?
P: This year marks the seventh year of FVC's partnership with Barco. Moving ahead, we want to increase the amount of training we offer our end customers and partners. We are also working with Barco to ensure more demo and POC kits to the partner community. And lastly, we're pursuing promotions including buybacks in the meeting room space. As the exclusive resellers for ClickShare Conference in the region, we're looking at enhancing the meeting room experience.
Can you both share your regional plans for 2020?
R: At Barco, we intend to continue working towards building strong relationships with partners across the region. We also plan to implement several technologies across enterprises, healthcare and visualisation product offerings across the region, and be more integrated in FVC's AV industry solution. This year we are also investing more in resources as we have extremely high demands from end users.
P: At FVC, we will certainly increase the channel breadth and work with them in a very vertical way. We're looking at enhancing partner training and partner workshops, for both the customers and partners across the region. We've seen a significant growth in our Middle East sector, and we will emphasis our focus on growing this market, particularly in Egypt and in the African region.