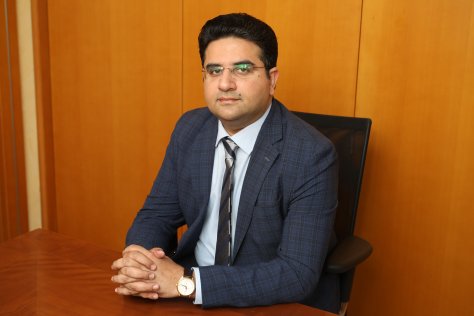 Israr Ashfaque, AVP – Smart Business Solutions, Raqmiyat, on how the system integrator will leave no stone unturned to ensure a good business.
Can you tell us more about Raqmiyat's Smart Business Solution?
You call it Raqmiyat's Smart Business Solution or Raqmiyat Digital; it is the future of IT and Business. We at Raqmiyat Digital today provide our customers with end-to-end IT and business transformation throughout the digital journey. We are offering services and solutions related to digital surfaces and facilities, enterprise business applications, cybersecurity and IT quality assurance.
Today, Raqmiyat' Smart Business Solutions is a customer-centric system integrator and not a software development house. We focus on industry and customer specific use cases, and align them with leading innovative technologies. It's no secret that the products we deliver accelerate the digital transformation journey such as low-code platforms, digital transformation frameworks, conversational AI and enterprise chatbot platform and paperless office solutions.
As a digital enabler, we are charting a path throughout customers' digital transformation journey with the ultimate goal of achieving the highest level of customer satisfaction and growth.
With customers adopting cloud technologies, how has been Raqmiyat's growth in the region?
We have been educating our customers on cloud migration since the early inception of cloud migration to this region. We have seen a significant growth in the space of cloud migration though it has a better potential. Raqmiyat recently completed one of the largest semi-government cloud-based application projects in Abu Dhabi by transforming the entire employee experience on a public cloud. Big cloud players opening local data centres in the region are promising factors for better growth of the entire ecosystem.
What are your growth drivers?
We examine and focus on the market we operate in, and time to time realign our go-to market strategy. We choose our customers and map our solutions to their requirements. People do business with people; I believe Raqmiyat's growth is directly driven by our people. People are the most powerful tool we have to bring success, and we do our best to have and retain the right set of people and equip them well to meet the unified objective. Technology and the IT world is changing energetically, and any system integrator needs to be ahead of the competition in the technology battle by having the right vision to adopt the right technologies. Today, Raqmiyat is digitally enabled and geared with few of the latest technologies like NLP enterprise chatbot platforms, no-code platforms, NoSQL databases and many more.
What are some of the new trends in digital transformation? How are you capitalising on opportunities which have come up with this changing market?
Today the enterprises are embarking digital transformation to operate their business more efficiently. While most of the enterprises today have automated their core business process in terms of ERP, BI or custom developed solutions. However, with the latest trend and technologies around mobile apps, RPAs and IoT, cybersecurity and paperless office solutions, there is a big need of each enterprise to re-look into the way they do the business more efficiently. Today, Raqmiyat has an end-to-end digital transformation solution offering right from digital infrastructure, digital experience, security solutions, and enterprise mobility solutions and paperless office solutions.
Can you share some market plans and initiatives lined up for this year?
Raqmiyat in partnership with regional top media houses has been consistently working together to bring awareness on digital transformation and cybersecurity to the market and spread the word. We are hosting a couple of events and webcasts every quarter in association with our technology partners for some of the very latest offerings and trends.
How do you see the space you operate in evolve over the next two years?
IT operations and technologies will continue to evolve with a major focus in cloud migration, AI bots and rapid development technologies. Regional public sector will start adopting cloud migration and cloud applications in a hybrid model, taking noncritical data and applications on the cloud. Whereas in the private sector and BFSI, there will be an increasing need for DevOps to enhance and optimise the time to market and deployments. Business automation through AI and conversational chatbot platforms will help enterprise customers in enhancing both employee and customer experience.