Partnering for Strengths – GIGABYTE and Mediasys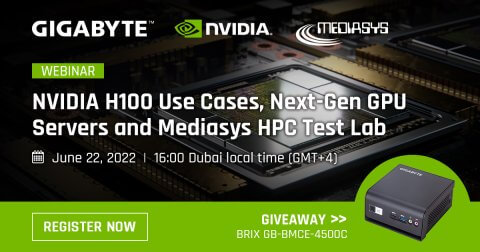 GIGABYTE Technology (hereinafter as GIGABYTE) has more than 30 years of engineering expertise and success stories that cover a myriad of use cases, from high-density CPU servers to HPC/AI/Virtualisation GPU servers to exclusive liquid/immersion cooled servers and more. The continuing success of GIGABYTE's server and workstation solutions stems from the quality and resiliency inherent in the processes of GIGABYTE's research and development and manufacturing management.
Mediasys FZ LLC (hereinafter as Mediasys) provides the world's leading integrated tools and solutions for digital content creation. Mediasys' primary commitment is to help their customers do what they do best. For tapping into the massive growth of AI and fast-growing demand for HPC in this region, Mediasys prides itself in providing total solutions and complete technical consultancy and support services in system integration and HPC hardware.
The partnership between GIGABYTE and Mediasys combines strengths and extensive expertise in HPC and AI on both sides to achieve the common goal of bringing premium customer experience, unique compute solutions, and reliable customer services throughout customers' journeys of solution selection. To both companies, the key to gaining market share is a combination of quick response to projects, total solution proposal and deep understanding in end-use cases.
Proof-of-Concept & Expert Consultation – the Mediasys HPC Test Lab
Following the partnership announcement, Mediasys and GIGABYTE have been collaborating on building the "Mediasys HPC Test Lab" for enabling the region's customers with the latest HPC computing solutions based on NVIDIA GPU technologies. The HPC Test Lab consists of a wide range of GPU compute servers, from 1U to 4U and in different system design types. These servers can be flexibly configured, on demand, to offer testing capability for end applications and workloads. Mediasys and GIGABYTE aim to expand the HPC Test Lab capacity as the market growth continues. The objective is to develop the HPC Test Lab into a regional hub for technology proof-of-concept for customers who seek technical consultation for use-case specific questions and guidance throughout a solution validation process.
GIGABYTE provides Mediasys with preferential commercial conditions and timely access to the latest HPC compute technologies, including the latest state-of-the-art NVIDIA GPU, in exchange for Mediasys effort in bringing the HPC Test Lab to the forefront of the region's market and making the lab experience an essential part of the customers' decision-making process. The lab shall be equipped with HPC servers, workstations, and edge servers based on GPGPU specifications. Mediasys will be able to offer either remote access to the lab's hardware or on-site delivery of test hardware. Some of GIGABYTE's next-generation exclusive solutions and NVIDIA's latest GPU solutions shall also be made available in the Mediasys HPC Test Lab.
Next-Generation GPU Computing Solutions – a Joint Webinar by GIGABYTE, Mediasys and NVIDIA
Following the recent announcement by NVIDIA on the new NVIDIA Hopper GPU architecture, GIGABYTE, Mediasys and NVIDIA will host a joint webinar on 22nd June 2022 at 16:00 Dubai local time (GMT+4) to provide an in-depth summary of the NVIDIA H100 GPU features, its use cases, and an overview of GIGABYTE next-generation GPU servers. The webinar aims to propagate the necessary technical knowledge for proper selection of GPU-based HPC computing solutions which can be tested for proof-of-concept in the Mediasys HPC Test Lab.
The NVIDIA H100 Tensor Core GPU is NVIDIA's ninth-generation data center GPU designed to deliver an order-of-magnitude performance leap for large-scale AI and HPC over the prior-generation NVIDIA A100 Tensor Core GPU. H100 carries over the major design focus of A100 to improve strong scaling for AI and HPC workloads, with substantial improvements in architectural efficiency.
For today's mainstream AI and HPC models, H100 with InfiniBand interconnect delivers up to 30x the performance of A100. The new NVLink Switch System interconnect targets some of the largest and most challenging computing workloads that require model parallelism across multiple GPU-accelerated nodes to fit. These workloads receive yet another generational performance leap, in some cases tripling performance yet again over H100 with InfiniBand.
The innovations featured in the NVIDIA H100 GPU:
New fourth-generation Tensor Cores perform faster matrix computations than ever before on an even broader array of AI and HPC tasks.
A new transformer engine enables H100 to deliver up to 9x faster AI training and up to 30x faster AI. inference speedups on large language models compared to the prior generation A100.
The new NVLink Network interconnect enables GPU-to-GPU communication among up to 256 GPUs across multiple compute nodes.
Secure MIG partitions the GPU into isolated, right-size instances to maximise quality of service (QoS) for smaller workloads.
To learn more about the NVIDIA H100 innovations, visit the webinar registration page and sign up for first-hand expert knowledge: https://event.webinarjam.com/register/8/6ovplsy