Sanjay Phatak, Managing Director Middle East at ISS Security tells Anita Joseph how the company manages to maintain its growth momentum and lead the market as a customer-focused intelligent video solutions provider.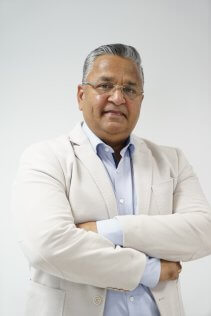 Tell us about ISS Security and its presence in the region 
 ISS was, and remains, a pioneer in the world of intelligent video solutions. Our ISS SecurOS platform is recognised globally as one of the most robust and flexible video management platforms available. ISS was, also, literally, among the very first firms to write algorithms for video analytics – a lead it has kept up and where it continues to innovate with advanced neural network and AI methodologies. 
 The company was founded 25 years ago, and has been operating in the Middle East for the past decade. In addition to our offices in Dubai and Abu Dhabi, we have sales and technical offices in Riyadh and Doha. 
 Honestly, we love being a player on the Middle East pitch, where we find some of the most sophisticated and demanding customers in the world.  
 What does your portfolio of products and solutions look like? 
 Our portfolio of products and solutions are all customer-use focused and forged in the fires of implementations and references from all around the world. One the beauties of ISS is to take experiences from major enterprise installations and translate them – very much into local language (literally), customs and demands. From security to operational efficiency to compliance, we'll work with the camera as the key (not by any means the only) sensor to meet integrator and end user needs. 
 What are some of the latest trends in the security surveillance market today? How are customer preferences changing? 
 We love the way the market is shifting. While hardware has become increasingly viewed as a commodity, the focus on surveillance has now become fixed on analytics; and the ability of analytics to lead to action and the collection of data points that lead to intelligence. ISS simply excels in these arenas. Further, the magic word in surveillance begins with the letter "i". That word is "integration". With best of breed technologies being called for from end users (not "just good enough" technologies), reducing risk in implementation is paramount. In that area, ISS is the integrators' friend – bar none – both in our technology infrastructure and in our famous and relentless customer service. 
Tell us about your latest award. What is it in recognition of? 
 The ISS Under Vehicle Surveillance System - ISS-UVSS – is simply second-generation revolutionary. It's innovative (four US patents owned by ISS are employed), sleek but incredibly rugged, simple to install and the most effective scanning available. And it's a third to a half cheaper than the aging first generation incumbent.
 What are your plans for the regional market in 2022 and beyond? 
 We will continue growing by doing what we've done: listening to our integrator, distributor and end user patterns; earning and re-earning trust every day; and hiring the best technical and business staff that suit ISS's honest, innovative and team-oriented culture.