Anita Joseph caught up with Chris Bihary, CEO & Co-Founder of Garland Technology and Manu Nair GM of Oregon Systems, to learn more about their partnership and what it means for critical infrastructure security in the region.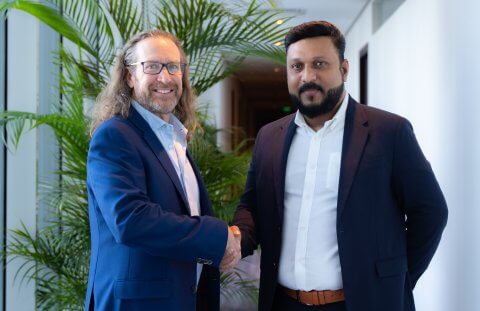 Tell us more about this partnership and the specific strengths both companies bring to the table.
Chris Bihary– Oregon Systems is a leading OT, IT and IoT Cybersecurity regional distributor of leading OT-focused cybersecurity vendors, serving the market through its qualified channel partners across the region, with a constant focus on customers in critical infrastructure and large enterprises. The partnership is a natural choice for Garland Technology. When selling outside the US, we focus on finding strategic partners that can help integrate our technology so we can deliver turnkey solutions to our customers. We've chosen Oregon Systems to help deploy our technologies within OT and critical infrastructure environments. This could include utilities, oil, gas, manufacturing, maritime etc, and the collaboration between the two companies is critical to be able to deliver to local customers within the Middle East region.
Manu– Being a professional engineering company, it becomes extremely crucial to choose the right technologies which provides the right kind of cybersecurity deployment in critical infrastructure. Unlike IT, this is a very complex infrastructure and there is multiple segmentation of this infrastructure, confidential networks, confidential data on different OEMs which have different proprietary protocols-understanding all this communication is a very complex challenge, if not, the whole cybersecurity design will fail. Garland Technology, as a technology provider, has multiple solutions available, that are highly capable of collecting information from critical infrastructure and providing it to the other systems from an integration point of view, which helps us give the right kind of visibility to define the threat landscape and take the right steps to address security threats.
We believe that the combination of Oregon Systems and Garland Technology is the right one to ease the journey of customers and deploy cybersecurity in a correct manner.
As far as customers in the region are concerned, what can they look forward to from this partnership?
Manu– Critical Infrastructure customers are keen on the deliverability of a particular technology. So, they evaluate each and every technology deeply, because the infrastructure is critical for them. They select infrastructure based on performance and capabilities. And as an engineering company and the biggest distributor of ICS, we thoroughly evaluate multiple technologies before we onboard. We are answerable to our customers about why we are proposing a certain technology and therefore, we ensure that the technologies we provide have the highest capability as of today, in the world. Garland Technology is one of the technology providers we identified, as having the best capabilities that we are looking for.
Chris– Network security is important. Garland Technology's "TAP to Tool" philosophy helps Oregon Systems deliver on its promise of security. At Garland Technology, we understand that companies invest a great deal of time, money, and personnel in security sensors. We strive to empower those sensors, not compete with them. Security sensors need full packet-level visibility to perform optimally and Garland Technology's solutions ensure the sensors have 100% visibility into the network. When you have an IT company that has data stolen, that will obviously result in a cost to the customers and the business. But when you deal with OT environments, we're talking about potential loss of lives. If someone were to hack a crane that's loading something onto a ship, you could have people dying as a result of a cyber hack into the operating system of the crane. Critical infrastructure is everywhere, there's so much that can go wrong. Network security in OT environments is absolutely critical and there's really no room for error. It is, therefore, important to partner with the best – not only with technology, but with those who know how to implement this technology. Oregon Systems has the experience, the people and the expertise, and that's crucial.
Tell us about Garland Technology and the work that you do in the region.
Chris-Assisting critical infrastructure networks is in the DNA of Garland Technology. Jerry Dillard (CTO / Co-Founder) and I got our start in the industry working on critical networks like emergency call centers and fighter jets respectively. This instilled an ambition to help ensure critical networks never fail. Garland Technology was born out of the desire to innovate and engineer solutions that are accessible, uncomplicated, and dependable. Added attention has been placed on developing solutions ideal for industrial and manufacturing OT networks. Garland Technology understands that industrial and manufacturing OT networks are unique environments, with demanding and exacting requirements. We engineer products that operate in a variety of conditions like extreme temperatures, vibration, DC power, tight spaces, 100Base-FX media, and unidirectional traffic flow with physical hardware separation inside the Network TAPs (data diodes). Garland Technology's products have been deployed in hundreds of OT networks alongside technologies like Nozomi Networks. In fact, we have the largest TAP and Packet Broker portfolio for OT networks in the marketplace – no competitor has the OT portfolio that we offer.