RME Editor Anita Joseph caught up with George Pawlyszyn, General Manager, Middle East and Africa at Rackspace Technology to learn more about the company's growth, the demand for managed cloud services and the market shift to the multi-cloud model.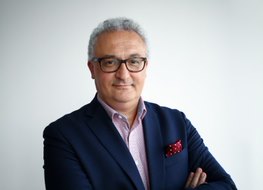 One year on since its Middle East entry, how has Rackspace Technology progressed, especially in a dynamic, fast growing and changing market? 
We've had tremendous growth in our first year, and as a company there's been some really exciting developments.  We launched in the Middle East in March 2020 and soon after that we rebranded to Rackspace Technology and became a publicly listed company.  
 During our first year we have supported a number of companies in the region on their cloud migration journeys including Aramex, the global logistics and transportation solutions company, which migrated from on-premise data centres to Amazon Web Services (AWS) following a comprehensive Professional Services consultation.  
How has the demand been for managed cloud services in the last one year, both from a financial and operational perspective? 
Cloud adoption and opportunities will continue to expand, leading to a $1 trillion market by 2024, according to IDC. The growth of this adoption has accelerated during the pandemic, but Rackspace Technology has been well-placed to respond to the high demand as companies pivot to more cloud-centric ways of working. 
This year, we expect our Middle East and Africa operations will account for 40 per cent of EMEA's growth thanks to our multi-cloud offerings as well as our recent launch, Elastic Engineering, a flexible way to consume cloud services with the support of a team of experts to develop assessments, migrations and manage cloud services in a scalable way.  
How do managed cloud providers like Rackspace Technology now offer value-add to their offerings compared to organisations going direct to Hyperscalers? 
Rackspace Technology's legacy has helped us carve our path into the multicloud market. We have over 15,000 customers across EMEA and they stay with us because we have deep in-house skills and expertise to assist our customers on their private or public cloud migrations. We understand that IT needs to support a company's overall business objectives and we work with agility and pace to solve this for our customers. Flexibility is a key component of this and with our service offerings, in particular the launch of Elastic Engineering, we are able to create a bespoke experience to make their goals a reality.  
Would you agree that there is a sudden shift to a multi-cloud model? If so, what are the advantages, and is the model here to stay? 
We are experiencing a tectonic shift towards the need for multi-cloud services and to support this demand, Rackspace Technology repositioned last year to be the leading end-to-end multi-cloud services company. Working extremely closely with the hyperscalers - Google Cloud, AWS and Microsoft Azure, means we can support our customers throughout their entire migration journeys, both with private and public environments. Very few companies are able to do anything like this, but it is crucial.  
In addition, data residency requirements mean that hyperscalers are opening in multiple GCC countries to enable governments to take advantage of the cloud. Some entities will still require dedicated private clouds. 
As companies evolve rapidly, perhaps more quickly than expected, and especially as they seek to become less reliant on legacy technology, operational challenges inevitably arise. Choosing the right cloud provider, or combinations can leave some overwhelmed by the amount of choice. However, in many cases, multi-cloud does emerge as the most effective solution, allowing companies to use public and private cloud systems together, and tailor solutions to a business's specific needs.