By Alaa Elshimy, MD & Senior Vice President for Huawei Enterprise Business Group – Middle East
The education sector had to adapt more rapidly than ever in 2020 to meet the unanticipated effects of the global novel coronavirus pandemic. While digital transformation within the sector was undoubtedly on the radar for the near future, many educational institutes have had to step up their timelines to provide virtual classrooms for their students, while educators have had to become experts in online delivery almost overnight. Smart education may have been fast-tracked due to the disruption of COVID-19, but one thing is certain: this new and digitally-enabled way of learning is here to stay.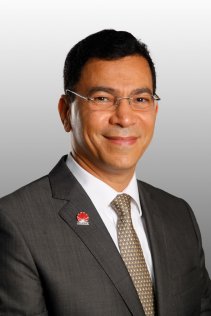 The information and communications technology (ICT) sector has contributed towards the digital transformation of the education sector, by working with schools, universities, and local authorities to provide solutions that deliver seamless connectivity. Online learning must be as accessible and reliable as the in-classroom alternative in order to ensure students continue to receive the same quality of education, regardless of where they may be physically.
Achieving seamless education and reliable connectivity requires the implementation of the latest technologies. 5G is a maybe component of a robust ICT ecosystem for the education sector; not only is it faster than previous generations, but it offers greater reliability, lower latency, and can handle more devices connecting to it. While 5G networks are still in their infancy in the Middle East, the increased roll-out and growing investment in developing 5G capabilities will empower the full digital transformation of the education sector – as well as all other industries and society as a whole.
5G acts as a key enabler for the implementation of cutting-edge solutions that leverage the potential of artificial intelligence (AI), cloud computing, big data, and high-speed networking. There has been a commendable effort by educational institutes and regional authorities to implement technology solutions as quickly as possible to ensure education continues as close to normal as possible, while students maintain social distancing measures.
This accelerated digitalization was made with just the present situation in mind so that classes were made accessible during lockdown scenarios. The above-mentioned technologies have been implemented with relative success given how quickly the sector had to transform, however, they are a short-term solution; educational institutes need to consider how to get the most out of long-term and scalable technology, with a planned digital transformation journey that will take them beyond COVID-19 and into a truly digital-first future. And while 5G network development is not in the hands of the educators themselves, they will see their digital capabilities significantly amplified when supported by 5G connectivity.
What educational institutions can do, however, is invest in the development of their own ICT ecosystems. Working with a trusted and expert partner will enable any school, university or college to upgrade their existing networks with the latest solutions, creating a scalable and futureproof campus that can deliver not only in the virtual classroom, but in the physical classroom, too. Any large establishment must have the ability to seamlessly facilitate multiple connections – tens of thousands of connections, even, with some universities in the region having close to 100,000 students – and this can only be achieved by having a reliable and robust network.
With many students still studying from home and fewer people on-campus, this is the ideal time for educational institutions to renovate their internal ICT ecosystems with minimal disruption.  Collaboration with an ICT pioneer, such as Huawei, will help to get the most out of existing infrastructure, while also providing guidance and consultation for a solid, achievable digitalization journey that leverages the latest and emerging technologies such as Wi-Fi 6, augmented and virtual reality, and AI, while meeting all necessary parameters, from the number of connections that need to be accommodated to budget requirements.
Huawei has considerable experience working with leading educators across the Middle East, including developing cloud services to storage, campus networks and more, ensuring quality education can be delivered virtually and in the classroom. Connected learning is the future of the education sector – and we're only just getting a taste of how impactful technology can be on elevating the learning experience for students and teachers alike. The education sector's digital transformation journey has been catapulted into the next stage as a result of COVID-19, but the future of connected learning can build upon the recently-laid foundations to create an empowered system that will deliver benefits for all involved.