CNME Editor Mark Forker spoke to Asef Sleiman, Sales Director at GBS, to find out how the IT company is positioning itself to capitalise on the burgeoning opportunities in the KSA market – that is being driven by the ambitious aspirations of its economic transformation program Vision 2030.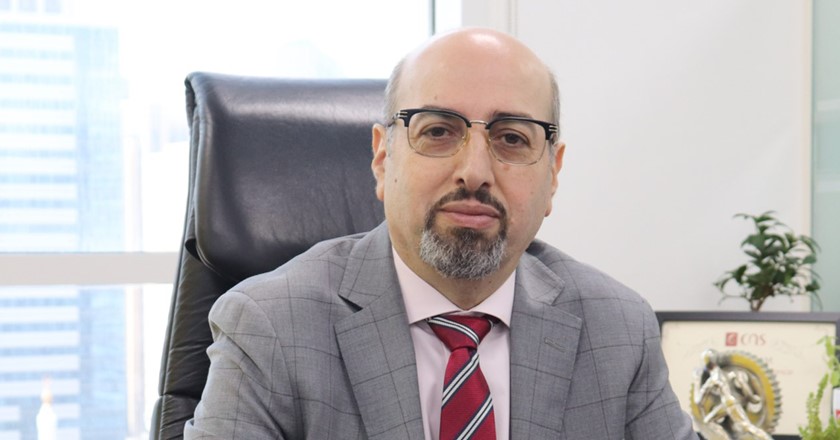 Asef Sleiman is a man on a mission, and the affable IT leader has been tasked with the responsibility of shaping the tech landscape for GBS in Saudi Arabia.
In a candid interview, Sleiman declared that GBS is fully committed to contributing to the future of the Saudi marketplace – and wants to make a lasting impression on their clients in the KSA.
GBS Sales Director, Asef Sleiman tells CNME that he believes they can leverage the company's track-record of success in the technology sector to lead the new deployment of innovative IT and digital transformation solutions across the Kingdom.
Can you provide our readers with more information on GBS as a company?
GBS is the expansion of the technology cluster of Ghobash Group which consists of CNS and GCG enterprise UAE Based group.
GBS benefits from the stability, resourcefulness and combined experience of one of the largest and most diversified business groups in the UAE.
Our proven expertise across Digital Infrastructure, Cloud Solutions, Cyber Security, printing, enterprise solutions, and digitalisation are the outcome of best-of-breed partnerships with global technology leaders which our Head Office companies, CNS Middle East and GCG-Enterprise Solutions, have established in the region.
In adapting our approach specifically to the KSA market, GBS is focused on delivering a real difference to our client's businesses and ambitions and has gained a reputation for developing highly-effective, innovative and fully integrated digital solutions.
We don't focus on pushing products or services, but more so on addressing business challenges.
What differentiates GBS from its market rivals across the region?
We started our operations in the KSA two years back, however we have accumulated experience of over 35 years in the region.
We understand the value of technology for businesses and we address business challenges to make a strong impact on the business from operational efficiencies and total cost reduction. In addition to this we are creating new revenue streams for the business in different verticals like healthcare, O&G, transportation, education and Government.
Our portfolio of solutions consist of a wide range of products and services, and together with our partners, we have worked diligently over the years to strengthen our internal resources.
This allows us to offer comprehensive end-to-end solutions via a very robust eco-system. Today, GBS provides complete solutions around Cloud with Oracle, along with disaster recovery solutions for enterprise as well as the government. In Riyadh, our solutions are busy linking all the new bus stations (approximately 100) via a centralised platform.
Experts agree that KSA is the next technological hub for the region. What are the focus areas which will facilitate the Kingdom's Vision 2030? How does GBS contribute to and support the Kingdom's journey forward?
From a strategic standpoint, the Government wants to elevate the Kingdom to a higher level of efficiency, transparency and technological advancement, with a focus on setting benchmark standards for critical areas such as security.
This mandate is linked to a specific deadline which Saudi wants to achieve in order to become a leading destination for investors, who are envisioned to contribute to the realisation of the country's future ambitions.
This drive has naturally led to heavy investments and a huge surge in developing an effective and world-class digital infrastructure. The Government is also compelling multinational companies who have been active in the region to set up or move their Headquarters to Saudi.
These developments create the ideal backdrop for a drastic digital-focused transformation and we are starting now to see the results.
As for our contributions, we believe we are going to work on two tracks; the first to ensure that strategic customers have the required technology infrastructure, and second to help mature customers adopting the journey of Digital Transformation.
We consider the requirements of our customers and how we can best meet their strategic objectives.
We have a dedicated team of consultants in different domains of technology who champion GBS' ability to assess, understand and plan both short term, as well as long term factors while complying with Government requirements.
GBS positions itself as an innovative, regional one-stop-shop provider of technology enabled solutions and services, focused on enabling strategic business objectives. We take pride in being vendor agnostic and delivering solutions which help our clients' business to transform and take on the future with total confidence.
What are the future ambitions of GBS?
We believe in the KSA market and we are making a big commitment to be one of the top technology players in the kingdom.
We see ourselves as one of the top five leaders in the market. We believe we are on track to achieve our vision.
We are working to increase our coverage to gain more market share, fortify our sectoral expertise, especially across the fast-growing healthcare, education, oil & gas and transportation sectors, which are all aligned as mission-critical fronts that will enable the Kingdom to realise its Vision 2030.
With the KSA market growing by leaps and bounds and so much more to be accomplished on different fronts, GBS aims to be at the forefront of this evolution, as the preferred digital transformation and solutions provider.
I am also happy to share that our approach and track record speak for themselves, as our solutions have been very well-received and we have been fortunate enough to gain a very steady and rewarding base of referrals.
We are also extremely excited about a number of new ground-breaking solutions which we will be introducing in the very near future. These will serve as pioneering innovations, and the first-of-their-kind in KSA.
Finally, we truly believe with our experience in the region we can add value to the KSA market, and we appreciate the support we have received from the local authorities to facilitate operations.