CNME Editor Mark Forker spoke to Yazan Jammalieh, Regional Sales Director, Middle East, Turkey and Africa, at SCOPE to find out how the company is expanding its market presence across the region, its unique partnership with SOCRadar – and how the capabilities of its technical team is what differentiates the distributor from its market rivals.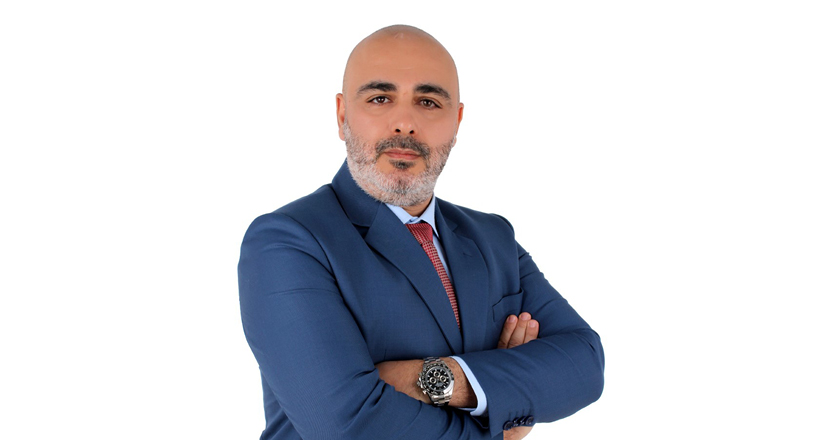 Yazan Jammalieh is a prominent IT leader with over 20 years of experience in the Middle East region.
During that time, he has held senior roles at companies like Barracuda and InfoWatch, but he is perhaps best-known for his work at SCOPE.
In the earlier part of his career, he spent eight years at SCOPE, firstly as a product manager and then as the company's Regional Business Development Manager.
In 2020, he re-joined SCOPE as the Regional Sales Director for the Middle East, Turkey & Africa – and has played a key role in helping the IT distributor enjoy year-on-year growth across the META region.
In an engaging and candid interview, Jammalieh kickstarted the conversation by documenting what his primary roles and responsibilities are as the Regional Sales Director for SCOPE.
"I'm responsible for managing the sales operations for SCOPE across the Middle East, Africa and Turkey – and it's my job to set the sales targets and establish the KPIs for my sales team in all the key markets that we are present in across the region. I also have additional responsibilities such as playing a proactive role in our business development – and I work very closely with our vendors to ensure that we are achieving the set targets that have been predetermined by them," said Jammalieh.
As we know the UAE has firmly established itself as a hotbed for new innovations and technologies over the last decade, and as a result other Gulf nations across the region have used the UAE as a template in a bid to replicate its success.
The adoption of nascent technologies is a key component in large-scale transformation, and there has been a tsunami of transformation across the Middle East region.
The introduction of new disruptive technologies is another important part of Jammalieh's job at SCOPE.
"It's also part of my job to introduce nascent technologies into the region, so what I try to do is establish what sort of technologies and solutions are absent from the IT ecosystem in the Middle East, Africa and Turkey, and see how we can adopt these technologies to help us overcome the challenges facing our customers. In order to do that, it's imperative to focus on strategic partnership with the right technology vendors. We deliver excellence in core distribution services to over 800 partners and 20 global technology vendors complementing our product portfolio with dedicated sales support, product support, technical training, logistics, marketing and professional services," said Jammalieh.
Jammalieh then provided us with a snapshot and insight into SCOPE's market presence across the META region and beyond, and disclosed that its biggest market in terms of revenue would be the Middle East region.
"We are present all across the Middle East, Africa and Turkey, and we also have some operations in Pakistan, India and Afghanistan. However, our main focus is mainly concentrated on the Middle East market. We have physical offices in Dubai, Abu Dhabi, Riyadh and Jordan, but I would say that our biggest market in terms of revenue would be the Middle East region," said Jammalieh.
Jammalieh said that in terms of the cybersecurity landscape, the UAE marketplace was very mature, but stressed that Saudi Arabia was maturing rapidly due to their ambitious economic transformation program Vision 2030.
The role of the channel ecosystem in the Middle East has been well-versed, but when asked what are the key credentials SCOPE look for when selecting their technology vendors, Jammalieh said there were a number of factors at play.
"Our value centres on deep-rooted strategic vendor relationships, collaborating closely on go-to-market and channel strategy. With a world-class vendor portfolio, our channel partners can access established and emerging technology vendors. We provide end-to-end support from enablement, pre sales, post sales, logistics, marketing and technical support," said Jammalieh.
The MEA cybersecurity market size was USD 15.66 billion in 2018 and is expected to reach USD 31.82 billion in 2023, growing at a Compound Annual Growth Rate (CAGR) of 15.2% during the forecast period. Major growth factors for the MEA market would be an increasing need to meet government and regulatory requirements, and a growing sophistication level of cyber-attacks.
"For us, the pre-sales activity is an extremely important function, and we look to our channel partners to determine what the customer pain points are and find out how can we address those issues," said Jammalieh.
Interestingly, Jammalieh said that the company was moving away from the traditional system integrators, and instead was looking for channel partners that provided a consultation.
"In the current climate, we know there are many issues facing businesses across the IT landscape, and one of the most pertinent is migrating to the cloud and finding the right cloud model that works for your business, but there are other problems unique to each business. So, traditionally we would work with systems integrators exclusively, but what we need now is a consultant, so essentially we need our channel partners to take a more consultative approach," said Jammalieh.
Last year, SCOPE signed a major partnership with threat intelligence company SOCRadar, which only serves to reinforce its commitment to the security services and solutions that it provides to its customers.
"At SCOPE, we are very focused on cybersecurity, and we know it is an area that is constantly evolving due to the complex nature of the threats that are continuing to emerge. We believe that the threat intelligence concept and capabilities that SOCRadar has is going to become of paramount importance to businesses of all shapes and sizes, because it has the ability to give businesses the visibility they need to tackle threats in real-time, it's a preventative measure, but it's also proactive," said Jammalieh.
Jammalieh also disclosed that 80% of their products are security-focused and added that they now have a dedicated cybersecurity division.
"Whether you're an Enterprise, Medium or Small business, you need cybersecurity assurance. With our vast experience in cybersecurity space, we will not only help you identify and gain visibility on your weaknesses; but put you in the right path to mitigate threats and reduce your attack surface with our in-depth testing and auditing. We offer services such as penetration testing, vulnerability assessment, configuration review, source code review and red teaming," said Jammalieh.
Jammalieh also stressed how security was everybody's responsibility.
"We know that security is a huge challenge, and once that has become even more profound in our work from anywhere world, and the threats are constantly evolving, so it is critical you have threat intelligence infused within your system in order to be proactive. 80% of our products are cybersecurity-focused and the other 20% is based on networking performance. Awareness is critical, and we have seen that a lot of these phishing attacks happen internally. Security is everybody's responsible and we have to change the current mindset. Data is the new oil and it informs your present and future decision making, so the prevention of data loss is so important to all businesses in the current climate – and you have to protect your assets effectively 24/7," said Jammalieh.
In terms of what really differentiates SCOPE from its other market rivals, Jammalieh believes it's the strategic partnerships enabling the organisation to provide cutting edge technology coupled up with SCOPE technical team capabilities that really gives them an edge.
"Our technical team is unrivalled. They really give us an edge, and I'm extremely proud of them. As a distributor we are in-between the channel and the vendor, so we have to support both sides. We support the vendor and are in many ways an extension of what they do – and we help the channel in order to help them with their sales and deliver their solutions. Our technical capability, knowhow, expertise and trust is what really differentiates us from our rivals," concluded Jammalieh.