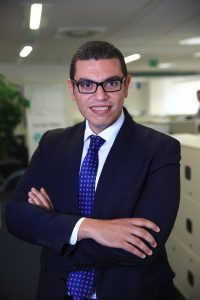 Tamer Abdel-Fattah, Head of IoT & AI Division, Ingram Micro Middle East, Turkey, and Africa describes four specific scenarios where customers must deploy Artificial Intelligence solutions to improve business efficiency.
Most customers today understand the significance of digital transformation and are willing to enhance their business by onboarding advanced technologies such as Artificial Intelligence (AI), Internet of Things (IoT) and blockchain. However, the trickiest part for end-users is in deciding when they need to deploy AI solutions and which solutions will have a genuine impact on their specific industry.
There are four main reasons why an organization must deploy AI solutions – if any one of them is applicable to your current situation, then you need AI solutions.
My business is supported by big operations that are affected by variable factors those change every day.
The nature of an organization's operation depends on the industry it caters to. It can be in the factory, warehouse, store, office, roads or on the web or mix of several different modes. With IoT solutions today, we can collect huge amounts of data about our assets and build AI solutions, keeping the ML/DL (Machine Learning or Deep Learning) engines always updated with the actual field data, allowing us to make better business decisions.
For example, ML is used heavily in logistics and supply chain management solutions today because it can take into consideration the huge amount of orders, resources (i.e. vehicles and their capacities, available machinery, workers, drivers, etc.), constraints (i.e. road conditions, vehicles capacities and service time, etc.) and SLAs, which are important criteria to archive data. The whole work orders management and planning can be done in minutes with ML, instead of hours and days. It also allows for using sophisticated ERP and CRM solutions, resulting in huge savings in the operations costs and reducing human error to a minimum.
Can AI solutions also help in adapting processes even if a customer's operations are not related to the field services? Absolutely yes! RPA (Robotic Process Automation) solutions take care of this and can be coupled with digitization, which means legacy documents can be read even if they are written by doctors. Although, the error margin still exists similar to what a human does, it can be very helpful to boost one's digital transformation journey on the whole.
Early prediction is important to prevent downtime and continue my operations smoothly.
In many industries, machines are the most important assets. They have to be running all the time to maximize productivity. If one of the machines go down, the productivity will be negatively affected immediately for a long time until the problem is identified and solved. However, if you have a ML engine that can predict the same problem, it can give immediate work orders to solve the root cause before you reach to the downtime point. The scoring of some of these software ML engines can reach 99% accuracy. The most important point is that these ML engines are adapting everyday with real conditions, which might differ from one work environment to another. 
High level of security is mandatory in my business.
When it comes to both cyber and physical security, Artificial Intelligence solutions have recently made a huge breakthrough to act like the human guard. The solutions can detect suspicious activity even if it is not able to identify exactly what the problem is. This way it can take action to stop the source of the suspicious activity and investigate further. It can avoid any unidentified threat before it affects your business drastically.
Deep Learning is the only way to train machines to identify the features of a normal situation. When it comes to computer vision, the AI algorithms in the neural network can build a baseline to the normal activities in place and send immediate notifications in case of detecting any anomalies. With this we can convert CCTV solutions of just recordings to carry out video analytics after the problem has happened. This way AI solutions can be a real guard that can monitor hundreds or even thousands of cameras simultaneously and alert the right response at the right time.
Also, if the threat is not one of the known or identified ones, it doesn't mean that the AI-assisted cyber security software will not be able to detect it, unlike the normal cyber security solutions that don't have Deep Learning engine.
We are facing hundreds of customers every day to serve them
Customer-facing industries either directly or remotely serve customers on the Internet or via call centers. This is not an easy job as it requires a huge number of well-trained agents to deal with customers and effectively sell products or solve their issues.
There are several solutions such as IVRs or availability of customer feedback pages on the Internet to enhance this process. However, it still leads to customer dissatisfaction largely due to lack of right options to select or delay on the phone while waiting for an agent to respond or delay in response after sending the complaint or feedback request on the Internet.
Deep Learning chatbots are becoming a great solution today to simulate hundreds or even thousands of customer service agents who are available immediately and can understand your language using NLP (Nueral Language Processing) technique. Recently, several companies have begun to dramatically reduce the number of customer service agents and increase the customer satisfaction level at the same time. The chatbot is already trained on your business and even enhances its learning every day.
If you experience any one of these reasons mentioned above, you need to get the help of AI/ML/DL solutions. At Ingram Micro, we have invested heavily in building the expertise in this specialty and our AI team can help you to know more and identify the right solution for your business. We have also announced our special distribution agreement with Nvidia to offer end-to-end AI solution for the first time in the Middle East, Turkey and Africa region.