Four years after the commercial launch of 5G, the next-generation technology has transformed virtually all industries and countless households worldwide, changing how we work and live and creating tremendous economic, industrial, and social value.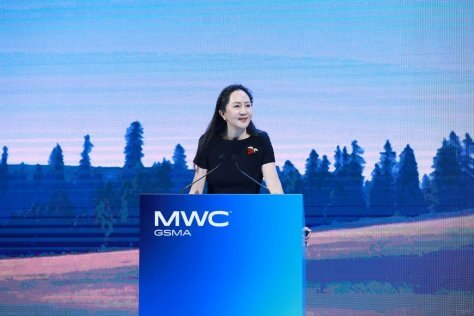 Today, there are more than 260 commercial 5G networks worldwide, serving over 1.2 billion users, and there are already 115 million gigabit F5G users. With service models and content continuously evolving, breakthroughs in technologies like glasses-free 3D are creating unprecedented immersive experiences for users. However, these new services continue to require stronger 5G network capabilities. The industry has widely agreed that 5.5G will be a crucial milestone in 5G evolution and is fast approaching.
With that in mind, Huawei, the company at the forefront of the 5G evolution, is ready to lead the 5.5G revolution. At the recently concluded MWC Shanghai 2023, Huawei announced that it will launch a complete set of commercial 5.5G network equipment in 2024, heralding a new era in global connectivity.
The Middle East and Central Asia countries were strategic in the fast adoption of 5G. Now the region looks set to be among the first globally to leverage the benefits of 5.5G. For example, the UAE released the 5.5G Openlab to promote the development of the 5.5G industry and accelerate the commercial use of the 5.5G industry. UAE operator du also plans to launch the 5.5G Campus in the second half of the year. Zain 5.5G City in Riyadh, Saudi Arabia, is building the world's first Fixed Wireless Access (FWA) 2.0.
Sabrina Meng, Huawei's Rotating Chairwoman and CFO, described 5.5G as the next step forward for 5G. "Science and technology are moving towards large, complex systems. This requires matching technology to specific scenarios and performing systems engineering in order to pave the way for 5G's ongoing success," she added.
Huawei proposed the concept of a "5.5G Era", based on an end-to-end solution that integrates comprehensive evolved technologies, including 5.5G, F5.5G, and Net5.5G. This solution would protect operators' previous investment in 5G while also improving network performance by 10 times. This 5.5G Era would feature 10-gigabit peak downlink speeds and gigabit peak uplink speeds to meet increasingly diverse service requirements. It would also refresh the industry vision by using new technologies like passive IoT to unlock a market of 100 billion IoT connections.
As an advocate for end-to-end 5.5G solutions, Huawei has been working with multiple players across the industry on R&D and verification of key 5.5G technologies. Significant progress has been made in this verification process, specifically for an extremely large antenna array (ELAA) that underpins 10-gigabit downlink, flexible spectrum access that helps realize gigabit uplink, and passive IoT that can enable 100 billion IoT connections. 50G PON is another key technology that can enable 10-gigabit speeds for F5.5G ultra-broadband networks and is expected to be extensively used in homes, campuses, and productions in the future. Huawei has worked with over 30 operators worldwide on technological verification and application pilots for these technologies.
Building up integrated capabilities and exploring the future of communications
The digital infrastructure of the future intelligent world will be deeply integrated into every aspect of people's lives, industry, and society. It won't be based on advancements in individual technologies but rather on incredibly massive, complex systems – the convergence of multiple elements. It's going to require systems-level thinking and design.
Meng spoke about two specific types of integrated capabilities. "The first is integrating different technologies. We can achieve greater synergy across cloud, networks, edge, and devices through systematic design and cross-domain innovation. When coupled with optimization across software, hardware, chips, and algorithms, we can address the challenges associated with developing complex solutions for vastly different industrial scenarios."
"The second," she continued, "is the ability to integrate different approaches to management. Digital and intelligent transformation is not just about technology itself. It's more about transforming your approach to management. Going digital requires redefining the relationships between people, events, things, and theory, and adopting a more open, forward-looking management approach to address future challenges."
No single company can singlehandedly advance the future; the industry needs to work more closely together, both up and down the value chain – with peers and partners, customers and developers – throughout the entire product lifecycle, from R&D and procurement to supply and marketing. The entire ecosystem needs to pave the way for 5G's ongoing success by working on solution modeling and optimization, as well as tools and methodologies.
Huawei has set up 86 tech labs around the world that dive deep into fundamental theories and core technology systems. In the wireless network domain, Huawei continues to work with the industry to define the vision and roadmap for 5.5G
Within 3GPP, Huawei is contributing to key technical standards for 5G-Advanced and working to promote a thriving 5.5G ecosystem with innovative 5.5G applications. Through ETSI, we are supporting efforts to improve F5G and F5.5G industry standards, drive a broader consensus on FTTR standards, and bring Fiber to Everywhere. The company also launched the "Lighting up the 5.5G Era" initiative, joining hands with industries to move from the 5G era to an even more thriving 5.5G era. The ICT network infrastructure of the 5.5G era includes 5.5G, 5.5G Core, F5.5G, and Net5.5G. There is no doubt that 5.5G is the path towards the intelligent world of 2030.