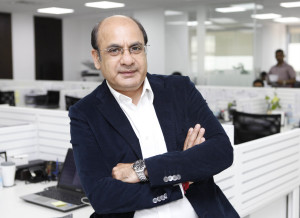 Arun Chawla, CEO, Trigon, takes Reseller Middle East through the company's growth stages and discusses how partners can expand business without hurting their bottom line.
The Middle East channel space has undergone some tough market conditions. And although many have survived this, only few have thrived. Currently, one of the challenges the market faces is maintaining a balance between top-line and bottom line growth. While most players manage to achieve a top-line growth, not enough attention is given to a company's bottom line.
A mere business idea more than 17 years ago, Trigon is one of the oldest distribution companies in the region with a focus on IT products and peripherals. Following the business motto, 'bottom line basics', the distributor boasts strategic alliances with large brands such as Samsung, LG, ViewSonic, Xerox, 3M, D-Link, Elo Touch and BenQ.
Recently, it has also added brands such as Dell, Acer, Netgear and Transcend to its portfolio. Having an existing mix of products catering to retail, corporate and reseller segments, the distributor is open to any new product, in both hardware and software, which complements its current product mix.
In 2013, Trigon continued its focus on the retail business and expanded the related product line. With a focused approach on the SME segment, the company also extended the product line in vertical segments such as healthcare and hospitality. Last year, the company hired dedicated manpower for its Abu Dhabi operations and expanded its service centres.
Spearheaded by its CEO, Arun Chawla, a veteran in this industry, the company has witnessed the evolution of the channel space in the Middle East region. Firmly believing that the pillars of every business should revolve around maintaining a sound bottom line rather than focusing on mere selling, Chawla has led the company to grow over the years. "We are a company who believes in gross profit and bottom line basics," he reiterates. "The successful operation of the company hinges on brilliant and effective management, highly dynamic, talented and qualified professionals backed by a team of sales, marketing and product managers."
Chawla's answer to employee retention, which is one of the biggest problems in the industry is quite simple. "Keep employees satisfied," he says. He adds that Trigon has been able to do this by understanding each employee's problem areas and finding a solution for it. In this manner, the company has been able to inculcate a stress-free and happy work environment, he says. It is also important that every employee understands the company's goals and vision in order to create a strong and focused team.
The challenges that Trigon faces is not too different from other distributors – profitability and gross margins, credit limits, cash flow and accounts receivable and managing stocks.
But what makes Trigon stand out from other players in the region is the fact that its business model caters to all four segments of the market- channel, retail, corporate and exports. "This diversity has allowed Trigon to grow its revenues and increase headcounts," he explains. "Our mission is to provide quality products and reliable services based on the latest technology and to win long term loyalty of customers and employees through continued satisfaction."
The business model, which includes developing product portfolios in these four segments, has fostered the company's growth. Chawla adds that safe and secure business practices too have been another reason for their success and its channel partners are also encouraged to follow these lines of business.
Partner development
Irrespective of whether it is the channel or the distribution business, the two most important things in both are gross profit margin and bottom line. There is a huge difference between turning an operating profit and making enough money to survive, Chawla says. "In the channel space, most players are only concerned with growing their top-line. Gross margins and good business sense have been the fundamental of any business, be it a distributor or a reseller. Resellers must focus, caution, and control more in the two 'make it or break it areas' – stock level and credits control."
Observing the current market trends and as a distributor, Trigon CEO says it is necessary to not over load the channel partners with excess inventories as it increases the pressure even further. "Good business is the only mantra", he says.
The company also works closely with retailers around the region. "Retail has always been one of our strong forte and our passion. Our understanding of the retail business has helped us to remain a focused retail-oriented distributor in the region," Chawla says.
Not depending on a single market or product, Trigon has a wide spread of network and this helps it to maintain a positive growth between countries, partners and products. "Our focus remains to continue to focus on reseller segment, retail and corporate SMS/SME – health care, education, hospitality and banking," Chawla says.
Future plans
Chawla believes solution business will drive the growth in the next few months. With vendors placing strong emphasis in this area, Trigon plans to leverage the situation and focus more on value-added business. The company also plans to expand regionally within this year. "The feasibility study is being concluded to identify the areas for expansion. With full-fledged sales offices in Bahrain, we are now looking at Saudi Arabia as a potential market and considering our product mix, it makes business sense to tap the potential present," he adds.
Saudi office will provide sales and after-sales support for all segments of the market- retail, corporate and channel and is aiming to be operational by October 2014.
We will also see the distributor expanding its logistics and service centre and moving to a bigger warehouse, this year.
As part of its other strategic plans for the next couple of months, the distributor aims to focus on retail and B2B corporate business and support its partners to build quality business. "Most of our power retail partners have aggressive expansion and growth plans during 2014 and we will partner with these plans at all levels," Chawla adds.