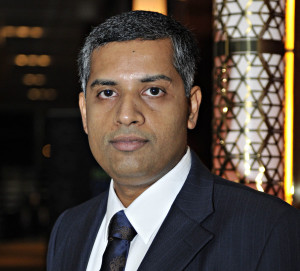 Ramkumar B, President, Value Division, Redington Gulf, discusses the company's plans for cloud and other focus areas for driving the business. 
What does Redington Value plan to do on the partner engagement and services front?
We have a couple of things in mind and are working towards that. Some of the first things we want to do is revamp our portal, launch an integrated marketing platform, develop some apps on which partners can connect with us and receive all the information they require. This could also be an online medium of engagement with our partners. Partner engagement is a prime focus. The next point of focus is on services. More specifically, services delivered through the partners and we are not looking at a direct model. We want to have the ability within our system but we are going to make this available for our partners. Today it is difficult for partners to develop the resources required to do a project on, for example, converged infrastructure or identity or access management. Identifying that it is not possible for partners to make investments of this scale, we have made it possible for our partners to white-label these services from us. This way the partner is able to win the opportunity in the mid-market or SMB level and grow their business.
Could you elaborate on how consulting and training are a part of your business objectives?
After partner engagement and services, consulting is the next important piece for us. It is a movement from value-added distribution (VAD) to solutions distribution. By this, what we mean is that we can give point solutions to our partners, which they can then go ahead and position to their customers. In many cases, for example, VDI, converged infrastructure, next-generation firewall, web-filtering solutions, it is not just about the technology but the solution as a whole. We will train the sales people on how to position these solutions and then they are able to go and deliver it as a comprehensive solution.
Our fourth point of focus is on training. We are the authorised training partners for vendors such as Palo Alto and two or three other security vendors are in the pipeline. Today most of the VADs, with the exception of a few, are training on behalf of the vendors, they don't have their own training programmes. From our perspective, this is going to be a key differentiator where we will provide world class training to our partners. We are currently in the process of talking to some of the training firms. We have not decided if we will bring a training platform or if we will build it on our own.
Through these four focus areas, we believe we can make significant headway and offer a better proposition to the channel, which can then become a better bottom line driver to the VAD model.
What are the company's expansion plans to North and French-speaking Africa?
At the moment, we have an office in Morocco and have recently opened Redington Senegal for the volume business. The current infrastructure will make a difference in the value business as well. We are working aggressively in North Africa with vendors such as Avaya, Red Hat and HP Enterprise Security. French-speaking Africa is another area where we are going to onboard some of these brands. In the next quarter, we will announce certain big acquisitions which will accelerate our presence in these regions.
In the last fiscal, we ventured into Portuguese-speaking area and we have Portuguese speaking nationals working with us. We have in-country people in Angola and a footprint in Mozambique in terms of people. We have back office people located here who can speak the language. In the same way, we want to develop French-speaking Africa as we see a high demand coming from our vendors to enter these segments.
Is Redington Value planning to get on the cloud bandwagon?
While immense interest exists in this area from our end, we are yet to announce clearly what our play is going to be as far as cloud is concerned. We hope to define this in the current fiscal. We know for sure that we will be reselling cloud services. From a cloud point of view, Microsoft had a RFP and chose Redington as their Services Provider License Agreement (SPLA) distributor. We have also tied up with Amazon web services to resell their infrastructure as a service and we are working with a couple of other vendors to start reselling their services.
From a cloud perspective, the first layer we want to build is our consulting area. We want to provide clarity to the channel on a number of things, such as what is a private and public cloud, what are the steps needed to be undertaken by a reseller to address the market. What is a hybrid cloud and where is the market evolving? Consulting is an area where we are investing in heavily and we will definitely do cloud reselling. However, beyond that, whether we are going to set up our own marketplace or if we are going to have cloud on our own – these are the areas where there is a lot of internal churn going on.