CNME Editor Mark Forker spoke to Rami Kichli, VP – Gulf and Levant, Software AG, to learn how the digital transformation enabler is helping businesses to adapt to the new challenges in the digital economy – and how agility and resilience are key components in ensuring success in the future.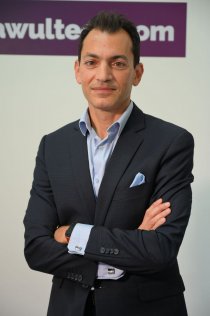 The terms agility and resiliency have been coined by many IT leaders since the beginning of the COVID-19 pandemic, and the importance of businesses integrating them into their daily operations were once again echoed by Kichli during an engaging and informative interview onsite at GITEX Technology Week.
"I want to start the conversation by outlining to you what Software AG does in one sentence. Software AG helps organisations digitally transform by turning data into value. This process enables organisations to become agile and resilient, and we know that agility and resiliency are key traits for any business to have in this increasingly on-demand data-driven digital economy that we now operate in", said Kichli.
Kichli disclosed that this year's GITEX Technology Week represented the 7th time it had participated at the region's largest technology and IT conference.
He heaped praise on the leadership of the UAE for its handling of the COVID-19 crisis, pointing out that hosting GITEX was evidence of the country's success in getting it under control, before adding that GITEX had injected fresh optimism into the IT ecosystem after a challenging year.
"It was very important for Software AG to be present and visible at this year's GITEX Technology Week. The UAE has sent such a positive message to the rest of the world – and have emphatically proved that you can successfully host physical events safely if you adhere to the health guidelines that have been outlined. They fostered an environment which allowed customers and partners to collaborate and communicate face-to-face and it has reinvigorated us all. The new hybrid world of work has many benefits, but it's hugely beneficial to be able to meet your customers physically, and the success of GITEX gives everyone a timely boost ahead of 2021″, said Kichli.
The COVID-19 pandemic has had huge repercussions from both an economic and human perspective, but Kichli stressed that with every crisis comes opportunity.
"I view the COVID-19 pandemic as a Black Swan event, as it is something that is highly improbable to happen, but then it does happen and when it happens it has a high impact. It has impacted every single aspect of our daily lives both personally and professionally. However, if there is one silver lining that we can take from this global health crisis then it is the realisation that we can do better and we can be better prepared for the next crisis. I think there is also a growing acceptance and acknowledgement that technology can be the ammunition to better prepare us in the future and ultimately become resilient", said Kichli.
The industry vertical of smart cities continues to garner attention and the deployment of technologies such as 5G is set to accelerate further innovation and start turning many of the use-cases in smart cities from concepts to realities. However, Kichli has a different take on the way IT leaders and decision-makers should approach smart cities.
"I spoke to a customer yesterday and we were discussing the concept of smart cities, but I think we should stop referring to them as smart cities, and instead call them smart resilient cities. This reason I said this is because I believe that whilst being smart and connected is great, what we have learned is that you need to be better prepared and humankind needs to be better prepared for the unknown. What cities, governments' businesses and individuals need to do is in arm themselves in the future with a resiliency-based model that can help them sustain their business operations through the next crisis", said Kichli.
The IT thought-leader at Software AG also highlighted the need to be agile in order to respond effectively to the ever-evolving nature of both customer and market demands in the new digital economy.
"The unknown is all about change, so in a bid to be able to change and evolve quickly they you need to be agile. In the past we have also looked at projects in months and years, but that doesn't exist anymore. We now talk in hours and days, and we deploy solutions that can help you deal with either the next challenge or opportunity. This what I like to call the 'digital value chain' – and the key components of it are agility and change – and the agility is the outcome of deploying the right technologies", said Kichli.
Kichli pointed out that it is critical that enterprises know what outcomes they want to achieve before they implement and adopt the emerging technologies they want to integrate into their operations, warning against the notion of deploying technologies simply for the sake of it.
"I think there are two dimensions to this and adopting new technologies is one of them, but it's vital that businesses do not just integrate these disruptive new technologies for the sake of it and they feel it's the right thing to do. Businesses can easily fall into that pitfall of just following the hype, and as vendors we are also susceptible of this. However, I think in this current landscape as vendors we have learned to be more responsible and accountable – and we look at technology with an outcome", said Kichli.
He concluded a brilliantly insightful interview by once again illustrating the importance of identifying where you want to get to when utilising the capabilities of new technology.
"Technology on its own is not a destination, instead it is the mechanisms that can get you somewhere. The approach is very important and as we said the technology is one aspect of it. There are some technologies if you think about them, such as IoT for an example. If I want to simplify the notion of IoT then what it does is allow you and everyone to decouple physical presence from data, which means you don't need to go to a machine to get the data, you can get the data by reading out of sensors that are connected and integrated. That's powerful and it equips companies with the ability to create so many different scenarios in this new world", said Kichli.