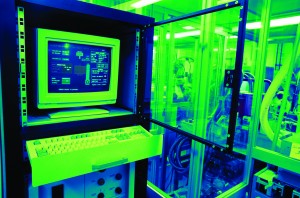 When it comes to embracing cutting edge technology to enhance business processes, beat the competitor and please the customer, the manufacturing industry in the Middle East appears to be near the head of the pack. Pallavi Sharma discovers the specific need for these investments and the road that lies ahead.
A recent global study of small and medium-sized discrete manufacturers worldwide revealed that the industry is struggling with increasing complexity, global competition, rapidly changing business environments, and volatile raw materials prices.
IDC Manufacturing Insights, a study conducted by IDC on behalf of Infor and IBM, in July 2010 interviewed decision makers in over 700 small and medium-sized enterprises in the manufacturing industry across four sectors in eight countries.
The Insights study reported that complexity in the manufacturing sector is attributed to a number of new factors such as low visibility into demand forecasting, the challenge of properly bidding for a project, and project profitability.
The study states that manufacturing organisations struggle to ensure customer fulfilment because of complex and global supply chains that make control over the customer experience very challenging.
Lack of clear visibility into market demand coupled with global competition is also seen to make the idea of developing profitable new products a dangerous guessing game. In addition to this manufacturers are under enormous pressure to lower costs.
While the study reports on global challenges, the truth is that the Middle East's manufacturing industry is not very different from its peers anywhere else. As challenges abound, the industry is finding that it can get a reliable helping hand from technology.
"Discrete manufacturers, now more than ever, need to to leverage IT to address operational challenges. In many cases it will be up t o the CEO to make this alignment a priority because it takes time and resources to communicate effectively; internally. There are, of course, technology solutions to improve internal communication and collaboration, but this process must start with both the CEO and the CIO prioritising the initiative to understand the business needs that enterprise applications must service,"
explains Andrew Kinder, director product and industry marketing at Infor.
"Today, it is hardly a question of whether to have connected and reliable IT systems and solutions in place or not. It's only a debate about when and whom to engage with to ensure that your organisation makes the most efficient use of its technology. The idea of imagining an organisation without IT is as alien as it can get," adds Mansoor Sarwar, senior consulting manager – ERPX3 – manufacturing at Sage Software.
Custom needs
IT professionals believe that the technology demands of the manufacturing industry are unique."Manufacturing industries work in tandem with the economic state, in that they require flexibility and agile practices to meet fluctuating demand. Most of these organisations start as medium
sized companies and their investment in technology grows with the demand for their products in the market," explains Girish Dani, business head-security services (MEA), Tech Mahindra.
IT professionals believe that the challenges associated with cost reduction and growing customer centricity are also unique to this industry. These concerns sometimes involve labyrinthine complexities that necessitate the need to invest in technology solutions to make business process management and decision making simpler.
For instance, challenges in the process world include having to deal with poor quality or variability of ingredients, and in some cases dealing with contaminat ed products. This may ultimately result in
recall, which can be costly not only in terms of time, effort and dollars, but also in brand equity and safety.
Further challenges to keeping spend low include the rising cost of energy, which has an impact on operating expenses, and the intricacies involved in process implementation when outsourcing.
For asset intensive industries, energy consumed by machinery is definitely just a cost of doing business. However, when a business does want to reduce the money it is spending on energy, the only way to do so might be to reduce consumption, which means reducing output. That is not a desired outcome. Process manufacturers, therefore, are often forced to bear the difference between planned and actual
costs, and much of this could be attribut ed to energy consumption.
For many industries in the region, especially after the recession, there has been significant shift in power from the producer to the consumer. This is true for the manufacturing sector as well and this transformation has led to another challenge."As customers become more demanding, inventory tends to be pushed back up stream. Many distibutors today are willing to carry fewer inventories. But in turn they expect a faster turnaround from their suppliers.
"This leaves fewer buffers all around, particularly in process industries where limited shelf life of products and vendorspecific requirements for product lots are prevalent. This places additional
requirements on manufacturers to manage expiration dating, provide better forecasts and more reliable and accurate schedules," explains Dani.
"Many of these challenges are often intertwined. The ability to control material and input costs is dependent on the ability to forecast demand and negotiate price. If a supplier is assured of a predictable flow of orders he is far more willing to negotiate on price," he adds.
Quality investments
According to Dani all of this necessitates the need for manufacturing companies to invest in intelligent solutions that enable a high degree of scalability and automation, as well as aid in resource utilisation and inventory management. "The industry requires predictability in internal systems, and therefore needs to invest in business intelligence, data warehousing, SCM, ERP and CRM heavily," adds Dani.
Sarwar says, "We have recently revamped our internal networking and upgraded it to the latest switches and hubs. A state of the art storage management system has also been procured. We have also connected our factory on a dedicated line and have managed to get the terminal services configured
on devices belonging to all our staff who travel frequently. All this has enabled us to have a centralised file server and mail server, which is always up-to-date and everyone is connected, irrespective of their geographical location. The improved network infrastructure and sophisticated storage management means the most expensive asset of our organisation, i.e., information and data are secure and readily accessible at all times"
Based on the improved network infrastructure, Sage then went on to implement a leading ERP application that covered the organisation's operations from all aspects. "Following the implementation
of this solution, we, for the first time in the organisation's life, have an actual visibility of the bottle necks in our production cycle. We have been able to gain a real computation of our actual costs of each unit product of a specific brand, and aspects like labour and machine efficiency, which are breakable to
each unit product," he says.
With the information provided by the ERP implemenation, decision makers at Sage are in a better position to focus on business growth. "The implementation helped us realise which products were no
longer feasible, based on product profitability reports that monitored marginal costs in comparison to market share contribution. We can now focus on productivity and strategy, instead of spending time on compiling the reports from mountains of data. Our bottomline has improved significantly and our storage costs have reduced by an impressive 15%. We expect to recover our investment in the ERP solution in just 18 months, which is fairly quick for an ERP product," says Sarwar.
Manufacturing industries are also investing in technologies like virtualisation and cloud computing to leverage on storage and energy cost savings.
Perma-Pipe Middle East has invested in WAN acceleration devices, server consolidation and virtualisation. "WAN acceleration devices have helped speed up data centre access for our branches and reduced operating expenses by eliminating the need for costly line upgrades. With server
virtualisation, we have eliminated several servers, thereby reducing power and energy consumption. In addition to this, on the IT administration front we have achieved lower redundancy and higher availability," says Vishal Sood, the company's IT manager.
According to Sood, the organisation is currently undertaking a desktop virtualisation project and expects to benefit from further reduction in IT administration overheads, with data consolidation and
central management of user issues.
A significant aluminium manufacturer, Dubai Aluminium (DUBAL) has made significant investments in business intelligence, storage and security solutions. "Making these investments seemed like natural progression for growth and productivity, and we have already witnessed better productivity and integration across the organisation," adds Ahmed AlMulla, VP of IT at Dubal.
Levelling out
As is the case with any technology implementation, the manufacturing industry too faces its share of issues that need to be worked out when deploying the latest technologies to enhance business operations. Zaki Sabbagh, CIO, Zamil Industrial Investment Corporation believes that this is only natural given the rapidly evolving nature of technology.
"Given the speed at which technologies today turn obsolete, decision makers in the manufacturing sector are often concerned about the ability for a solution to contribute to the organisation's long term growth and compatibility with different platforms. What makes this situation worse is that organisations often have to work with a variety of solutions or software to suit specific business needs, and must therefore make sure they invest in platforms that can be seamlessly integrated and can adapt to the organisation's future needs well," he explains.
This is one reason why the manufacturing sector is very particular about its choice of vendors and the technology solutions each has to offer.
"We try to minimise working with too many technology providers to reduce the complexities associated with working across multiple technology vendors and developers. Our choice consists of one or two vendors that can develop an integrated platform and a comprehensive solution," says Sabbagh.
According to him, this helps the organisation reduce the footprint, optimise its use of resources in terms of skills and technology and helps companies build a better relationship with vendors through direct engagement. It also enables them to develop a future roadmap of IT investments and strategies in collaboration with the vendors who understand the business needs better than a new vendor would.
Managing the resistance to change is also a major challenge that most enterprises have to deal with. "In the case of virtualisation and cloud technologies the way of administering the server changes due to the placement of another operating system layer within the infrastructure. To most users this is another
layer of complexity. This can only be addressed with proper communication and education," says Sabbagh. Other decision makers recommend hiring a change management consultant or conducting a series of workshops to help manage this process.
A majority of the professionals point to the lack of vendor support and service capabilities as a major issue that needs to be dealt with at a regional level. "The region lacks a culture of legislation associated with IT contracts. This may be because the region functions on trustbased relationships. But this leaves customers no means to protect themselves against falling service levels," he adds.
AlMulla agrees, "Vendors in the region lack a comprehensive plan and resources to support the implementation of technology. Vendors need to concentrate on delivering better standards of service, especially in terms of skills availability and time taken to respond to queries and errors."
Despite these glitches, most IT professionals are satisfied with the rate at which vendor knowledge and understanding of the nuances of the manufacturing industry is maturing. "We are witnessing the growth of more specific vertical knowledge among vendors, as well as workshops and seminars that create a platform to share best practices and meet industry experts to enhance the use of the latest technologies," adds Dani.
On the whole, decision makers believe that the manufacturing industry is now making the transition from investing in point solutions to larger investments in long term operational technologies. As the market continues to recover from the recent global slump, and the demand for products continues to increase, IT investments that enhance business operations, shorten production life cycles and guarantee greater customer satisfaction will also increase.
Izzy Azeri, senior VP and GM, Americas at Acronis says, "The manufacturing industry may not have as many regulatory or compliance requirements as other industries. While some industries may be a little more hesitant to deploy some new technologies, the manufacturing sector seems to see the cost-benefit analysis of that pretty easily, and they're deploying them much more quickly than other industries."
IDC Manufacturing Insights predicts that the industry will invest in a combined approach of internal skills development and training, and external consulting and technology to address the future.