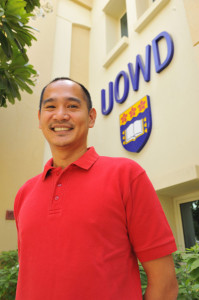 Using the high-octane approach to IT found in his hometown of Manila, the University of Wollongong in Dubai's Joseph Aninias has emerged to become one of the most respected IT heads in the UAE.  
"In Manila's IT scene, the competition is high. You have to always be on your toes. You cannot be left behind in terms of training, in terms of implementation and in terms of the projects you do. It's always about raising the bar."
The UAE's IT scene might have its own levels of competition, but what we have in the Middle East is a far cry the Philippines capital. However, it is this high-octane approach to IT that has allowed Joseph Aninias, Manager of Information Technology and Telecommunications Services, University of Wollongong in Dubai (UOWD), to emerge as one of the most respected IT heads in the business.
It's funny how Aninias's career turned out, given that, when he first visited Dubai, he was simply working for an Internet service provider in Manila. He had come to the UAE for a holiday to visit his sister in 1999. However, he liked the environment so much that he figured he should extend his trip.
Having overspent his travel budget a little, Aninias began looking around for employment options in Dubai. After all, he liked the Emirates life, so saw no reason to stop living it. "I'd learnt at the early stage that I could make quick bucks with part-time jobs," he says.
Having adopted a freelance mentality to working, Aninias soon became involved with a local TV organisation. He helped to build up the channel's small local network.
"Back in those days, remuneration wasn't entirely clear, so I could price in my own way. To these guys, it made no difference — they just wanted me to fix something," he says.
Of course, there was a little bit of haggling, but because Aninias had that Manila mentality toward IT, he could justify his prices. Business heads would ask him why he charged what he did, and he'd respond by assuring that he would build them networks that last — because that's what's expected of IT managers in the Phillipines.
"I said to them, 'I will fix this stuff, and then you'll never need to get someone in again. And I won't need to come back again until it's due for replacement,'" Aninias explains. "And after more than a year, it never broke."
During this freelance phase, one of Ananias's clients offered him a full-time position, sensing that he could be a valuable asset to the IT department. Aninias accepted without hesitation, viewing the position as a stepping stone onto the regional IT scene, which he had decided he could thrive in.
"So I resigned from my old job, I stayed here in Dubai, and I worked at that company for almost three years," he says. "Life then was nice and easy."
Aninias's job revolved around looking after technological logistics. The company had offices in both Jebel Ali Free Zone and Deira, and it was up to Aninias to connect the two offices as best he could. Obviously, this proved difficult — online connectivity was only at the dial-up level, and the only way to get between both offices was to take the long drive down a much smaller Sheikh Zayed Road. Back in those days, if Dubai Marina had existed, it would have been seriously out of the way.
However, after almost three years, when Aninias had succeeded in linking the two sites, he came to find the position a little boring. He resolved to re-start his career as a fully fledged IT manager, and thought it best to get going quickly. And that's when he stumbled across a job advertisement at UOWD.
"At first, I wondered what I'd do at a university — a university has pretty much got an established infrastructure," he says. "But I thought I'd give it a go. When I was interviewed, I met one of the professors and the IT manager. They asked me all of this technical stuff, and the interview went for about two hours.
"So I asked them, 'What is the problem here that you'd like to solve? What do you want to fix?' Then they ran through all the issues they were facing — the dial-up, the host network, the infrastructure, the emails, the website, and all that. And so I went to the whiteboard, and showed them a diagram of how we were going to fix it. I think they liked that, so they gave me the job as a network engineer."
At the time, UOWD only catered to around 200 to 300 students, so the IT team was simply composed of Aninias and the IT manager. However, this was perfectly manageable, and the pair found that they didn't need anyone else. Aninias would handle the support side of things, while the IT manager would write the policies. However, soon after Aninias joined, things would move along much more quickly than he had anticipated.
"After my first year, there was a plan to move to Knowledge Village, because the growth became exponential. We were going from 200 students to 500 to 1,500 and so on. We had a feeling that it was unstoppable because the economy was really growing. Around about that time, I felt we needed a technical support person."
What's more, Aninias felt that the service level agreements that the university had with its vendors were not up to scratch. He advised the team that they needed to get rid of their vendors and draw up new service level agreements from scratch. "We were paying all this money but they weren't coming here," he recalls.
Having discontinued their service level agreements with vendors, UOWD's IT team then had a financial justification to hire someone as technical support. Aninias took it upon himself to shape the new employee on how UOWD ran its network. And once again, Aninias showed that his ability to turn high-stress problems into pragmatic solutions was something to be reckoned with.
"We wanted to be technology-agnostic and cost-conscious," he says. "And the finance people liked that. At the early stage, we had finance on our side already. Coming from a commercial background, I could see that driver. If you don't have finance on your side, it's always going to be a battle. Sure, you can always win the battle by injecting some technological terms, but you want finance to be on your side. You want to look out for the benefits of the company — you need to keep that in mind."
By 2003, Aninias's Australian IT manager had decided to go back to his home country with his family. At the time, the university was going through a major restructuring — a new director had been appointed (a member of the Australian parliament, no less), and the organisation was keen to fill the missing gaps in management.
Aninias seemed like a natural fit for the IT manager role, but he wasn't entirely keen on taking the job at first. For one thing, he wasn't sure he wanted the pressure of the top position, and for another, he enjoyed his down-in-the-wires job that allowed him to play with his technological toys. The biggest reason, however, was as ever a pragmatic one — throughout his time at UOWD, Aninias had come to be doing several jobs at once, meaning it would be nigh-on impossible to replace him.
"I said to the director, 'If you want to replace me, you'll need to get five more people. You won't find a generalist with the same attention to detail,'" Aninias explains.
Despite this warning, though, the director asked Aninias to write those five job descriptions and hand them into HR. "In the same week, I saw the postings for those four or five positions," he says. And within three months, Aninias had been appointed to the role of IT manager.
That was in 2004, and Aninias has since overseen a massive expansion at UOWD. The university has moved to Knowledge Village, and built up one of the most robust IT systems in the business. Ever one to relish a new challenge, Aninias has also embarked on major projects, such as a desktop virtualisation initiative that has allowed new levels of learning flexibility. And in terms of his personal development, he completed his Master of Business Administration degree a few years ago.
And having been at UOWD for more than 10 years, Aninias sees no reason why he won't carry on as the university's IT manager for many more years to come. He describes UOWD as a fantastic place to work. And while it may not be the high-octane and competitive approach to IT that he enjoyed in Manila, Aninias sees UOWD as the ideal place in which to put his skills to the test.
"I'm bringing that spirit in Manila back here," he says. "Raising the bar is what we do."