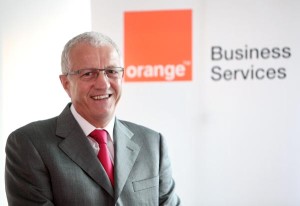 Three years ago, Orange Business Services announced its 'Conquests 2015' strategy for high growth in several areas, one of which being to generate revenues of €1 billion ($1.34 billion) in emerging markets. CNME catches up with its MEA GM, Jean-Luc Lasnier, to see what part this region is playing in that plan.
How long has Orange Business Services been operating in the region?
Orange has been operating with a presence in the region for more than 20 years, and more than 50 years in Africa. But the latest chapter of the story really began in June 2006, when France Telecom rebranded all of its global B2B operations under the Orange brand, and instilled the Orange values into the new global B2B organisation, including greater customer focus, simplicity and ease of doing business, with a single point of contact and billing. Since then, growth across the region — with a strategic focus on the markets of the UAE, KSA, Turkey and  Qatar — has been very solid and sustainable. However, to support the goals of Conquest 2015, we need to accelerate this growth strongly, and have been looking at three main areas to help drive the business forward through a classic marketing approach — with a focus on the go-to-market strategy for the region, defining and refining the appropriate service portfolio, and defining and segmenting target markets.
What is the company's current strategy in the Middle East?
Our go-to-market routes are adapted to each of our focus markets. We sometimes go direct and sometimes through partners, such as Etisalat in the UAE. Orange operates in a 'co-peting' environment, sometimes partnering and competing with organisations and channels — so Orange serves some business customers directly and others through partners. With telcos in the region, the relationship can be more complex and multifaceted; we may be selling our network and services to them and through them, and the partners sometimes jointly invest with us in infrastructure, such as submarine cables.
What services do you offer, and where?
We continue to serve our traditional MNC customers, such as those in the key verticals of oil and gas, Ministry of Foreign Affairs (MOFA), mining, banking and finance, industry, and offering network/IT infrastructure and data centre services. Our new customer segments in the region, such as new smart cities, bring a clear focus on to the UAE, Qatar and Saudi Arabia, where there are especially large investments being made. In terms of services for MNCs, Orange covers IT and telecoms, and network services, such as telepresence and VOIP — Orange has the license to offer VOIP in the UAE — and data centres. In terms of markets, the regional markets are maturing and there are increasing concerns about IT security, following some high profile cyber attacks recently. Because of Orange's position and role as a telecoms operator and IT integrator, we cover the security of IT infrastructure from all perspectives, including data centres — the questions of where they are sited, how they are backed up, and the recovery strategy, are all part of what Orange does.
What are you doing differently in the growing smart cities space, and what are the challenges there?
Smart cities is a really interesting segment for Orange in the GCC, and this tends to be more localised customer businesses working with local developers and allowing Orange to explore two major areas in which we have an especially strong offer; M2M and e-health. In the Middle East, there are two major issues — security and water — and these are where Orange has really distinctive know-how. The Orange approach is only to go to market when we know we can deliver — for example, M2M and smart metering, where Orange has solid experience and capability — and our high levels of customer satisfaction reflect this approach.
What are you doing to capitalise on the opportunity of cloud in the Middle East?
Orange has recently launched a new CIO user group in the Middle East and the forum has already discussed cloud, an area in which the group's members have registered a lot of interest. But the region does not yet appear to be ready to invest in or develop this interest. The sense of giving up ownership of data is a concern, so the first step of outsourcing some elements like data centre recovery initially may be a starting point. These CIO customers have already outsourced their network to Orange, but it will take more time to build trust and confidence in cloud.
What does Orange Business Services offer in security and managed services?
These must be integrated and delivered as a service, and incorporated into the overall infrastructure, which is what Orange does with our MOFA clients, for example, who are especially tough on security. This is understandable when you consider the importance and sensitivity of their roles and the data they use.
What are you doing in Africa?
In Africa, Orange Business Services' business is performing very well with solid double digit growth and, in 2012, bandwidth was increased significantly. We have witnessed a significant increase in the average size of our deals, which are now more in the range of $10-15 million, and we have invested significantly in the MEA region to achieve this. We have been operating in Africa for 50 years and today Orange Business Services operates in 52 countries supporting MNCs in South Africa, principally because this is the preferred regional HQ location for around 70% of MNCs working in Africa. Orange supports the Sub Saharan market from South Africa and only sells where the business arises.
What are your plans for 2013?
In terms of plans for 2013, strong double digit growth is the aim and Orange Business Services has already opened a new JV local company in Qatar, and is actively developing Saudi Arabia and partnerships through our own local entity. We are investing in infrastructure and people all over the Middle East, as we actively transform the Orange Business Services organisation to deliver our business objectives — to secure even bigger contracts. .