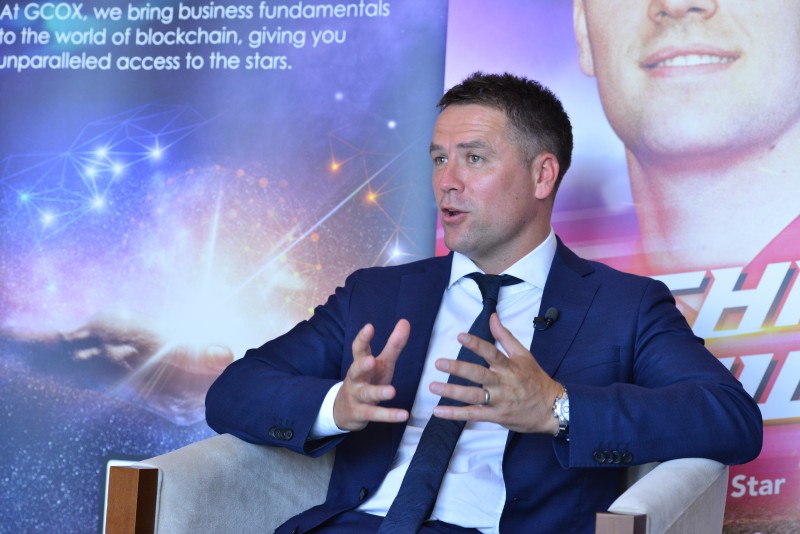 The world has changed a lot since an 18-year-old Michael Owen took the footballing world by storm.
After bursting on to the global stage following a wondergoal against Argentina at the 1998 World Cup in France, the English international cemented his reputation as a football superstar in the late 90s with English club Liverpool, where he became renowned for his electric pace and prolific goal-scoring record.
In 2001, after winning a UEFA Cup, FA Cup and League Cup treble with his boyhood club, Owen achieved the highest individual honour in football, winning the Ballon d'Or – the European Footballer of the Year award. By 2004, his prowess earned him a move to the biggest club in world football, Real Madrid, where he was signed as part of the 'Galactico' era – a team comprising the planet's biggest superstars, including Zinedine Zidane, Ronaldo and Luis Figo.
Now, Owen has emerged as an unlikely global champion of cryptocurrency and blockchain, and he finds it easy to relate to the ways in which technology has changed the world since his playing days. "We're in the technological age now," he says. "The generation after mine is when technology probably really hit home. Mobile phones came out when I was about 16. Twenty years ago, we had a phone with a green and red button, and that was about it. It's strange because a lot of the time, the life of a footballer is really boring. We would fly, see an airport or be resting in hotel rooms for five, six, seven hours every day, and it was just tedious. Nowadays, with technology, players have so many things to occupy them."
Retiring from the beautiful game in 2013, Owen quickly turned his attention to setting up his own businesses, launching the Michael Owen Football Centres, and Red Sports, the Chinese soccer schools programme, and he first crossed paths with cryptocurrencies following their rise in the East. "I've got a few businesses around the world, a lot of which are in Asia, and in terms of cryptocurrencies and those businesses, it felt like a marriage in the sense that you could use these tokens to be involved with me," he said. "For a lot of the businesses that I'm in now, embracing cryptocurrencies fits really well, and that's probably why it was such an obvious thing."
Owen has now joined forces with Singaporean firm Global Crypto Offering Exchange (GCOX) – the "world's first" celebrity crypto tokens exchange, which lets celebrities create and trade their personal crypto tokens on its blockchain, Acclaim – to release his personal 'OWN' Token. GCOX already has a renowned cast of private placement investors, including Filipino boxer and senator Manny Pacquiao, and Singaporean billionaire Tommie Goh.
"I've got football training centres, and you can use tokens for merchandise, food and beverages," Owen says. "For training sessions, it's actually got a value. As I was developing a few of these businesses, we found out a bit more about cryptocurrency and that's when I got connected with GCOX, and the rest is history."
Having been mindful of technological change throughout his career, Owen now believes cryptocurrency and blockchain are the trends that will shape the world. "Cryptocurrencies are here to stay," he says. "I would say that they're going to be the future, I'm pretty certain about that. Along with Blockchain, they've obviously caught most people's attention, and are the new buzzwords of the day. If you think back 20 years ago, it was the internet, and now everyone's predicting that this is going to be a life-changer, and I'd go along with that. The technology's there. The fact is that governments are now embracing it. I'd guess that there will be a lot more people who join the party."
However, Owen, who also spoke at the Future Blockchain Summit in Dubai last month, has not made a blind bet by involving himself in cryptocurrency. "Cryptocurrency can be quite a dangerous area to go in," he said. "Legally, you need to cross all the t's and dot the I's. GCOX did it properly from top to bottom, and my people had a thorough check, because you can't risk joining forces with somebody that's not legitimate. They passed our checks with flying colours."
Away from Blockchain, Owen believes that virtual reality is set to be the most transformative technology for consumers across the world. "I've got a VR headset, which is absolutely amazing," he says. "It'll be interesting to see how football fans interact with technology in the coming years.  You've now got virtual reality and 360-degree cameras that allow fans to virtually experience matches and be inside stadiums, which is truly game-changing."
He also believes that as technology and data analysis continue to evolve, the football world will be forced to adapt, with coaches in particular having to become masters of information. "I have the seen the change in that respect – obviously throughout my career it's happened in front of me," Owen says. "We used to train and scout opponents in one way, but now you monitor every step you take – how much distance you've covered, how fast you've run, everything about opposition players. Technology has just brought so much into our lives to make things better in a football sense. Embracing all that is a must because otherwise you'll be left behind."
Owen believes that information will need to be married with the human touch if technology is to truly reach its full potential. "Your eyes don't lie, and in most cases, you can see how hard someone's working," he says. "However, when you're looking after a squad of 25 players, it's very difficult to absolutely be on the money every single time, so technology just enhances that awareness. There's no hiding anymore. You could've had a few drinks the night before training back in the day, and hide in a training session if you were feeling a bit under the weather, but now you can't get away with anything. It aids coaches so much now that they rely on data to be at the top end of their profession."
Since initially visiting Dubai in his late teens, the emirate has become Owen's holiday destination of choice. In the early years of his career, he starred in a promotional video for property company The First Group, which saw him give a guided tour of Dubai's most-loved sites, from the view of a helicopter cockpit. "I've probably become much better at talking on camera since then," Owen quips. "I did the video when I was about 18 or 19, and it went viral when someone re-shared recently. I first started coming over when I had my first holiday around that age, and there were about three hotels in the whole city. Now, it's colossal, and an amazing place. Dubai is now so popular with Brits, and the world definitely knows the Middle East is progressing fast."