CNME Editor Mark Forker speaks to George Pawlyszyn, General Manager, Middle East and Africa, at Rackspace Technology, to find out how the company is helping its clients navigate their way through the challenges presented by COVID-19.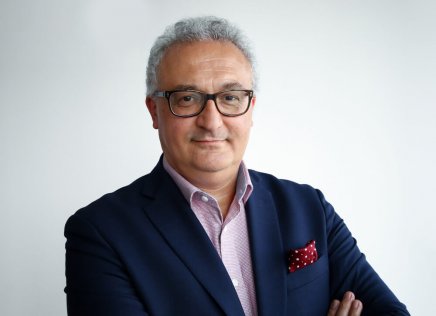 Pawlyszyn, has enjoyed a decorated and distinguished career in the IT ecosystem over the last two decades, and the charismatic executive eloquently articulated his points in a fascinating interview.
We begin the conversation by talking about, yeah you guessed it the ongoing global COVID-19 pandemic. It's impossible to avoid the topic, as the outbreak of the virus has disrupted the way we work, when we work, and how we work.
Interestingly, Pawlyszyn believes that even with the introduction of a vaccine, things won't go back to normal like some have suggested, and the genie, which is a hybrid working model is now firmly out of the bottle.
"I don't think it's ever going to be the same again even if there is a vaccine. People have learnt through what you could describe as a massive social experiment that this hybrid working model clearly has huge advantages to it. People have noticed that they can get a lot of people together at short notice by hooking them up on a virtual call," said Pawlyszyn.
In addition to this, he believes that there will be a lot less business travel post-COVID and pointed out that this was already declining prior to the pandemic.
"Businesses have discovered that they can do more meetings per-day than they probably could otherwise, so I think there's going to be a lot less business travel, and I think the situation has really magnified the point that 50% of travel is completely unnecessary. However, I do think for client interactions people will still want to have face-to-face meetings," said Pawlyszyn.
In terms of their own business, COVID-19 has helped solidify Rackspace Technology's position as a global leader in the multi-cloud sector, and they've seen an upsurge in demand and a change in mindset from enterprises looking to migrate to the cloud.
"We're seeing a tectonic shift in the industry to multi-cloud which has been exacerbated by the pandemic. For our business it's been a massive accelerator. To provide some context, around 20% of the workloads of people going to cloud were already there, but doubts amongst the remainder of businesses ranged from concerns on security, the applications not working properly, or how do they run a hybrid environment? What COVID-19 has done is force a lot of businesses, including some of our new clients to do things that they were putting off because they thought it was too difficult," said Pawlyszyn.
The General Manager of Rackspace Technology's operations in the Middle East & Africa said that he noticed a huge change from companies on a week-to-week basis at the outset of COVID-19, but that they quickly came to the conclusion that they needed to embrace change and adopt new technologies and embark upon digital transformation.
"Some enterprises adopted the mindset of we're just going to ride out COVID-19, and then afterwards everything will go back to normal, but as each week went by you could see them abandoning that belief and it has really woken them up. IDC has projected a 10% increase in the investment of digital transformation technologies, which is surprising in the current climate as you'd have thought businesses wouldn't be investing and would be more conservative, but there was a realisation that in order to survive you have to implement change," said Pawlyszyn.
Pawlyszyn added that Rackspace Technology were very lucky as a company due to the sheer diversity of its clients, and even though some of its clients in the travel and transportation industry may have taken a severe hit, they've been more than compensated by gaining new clients in gaming, e-commerce, media and finance.
He also added that enterprises encountered challenges in terms of the skillset that is required to move to a fully cloud-enabled environment and take those applications that need transformation and modernisation and were key factors in putting businesses off moving to the cloud.
"We've got clients, including Aramex, a large logistics company, which has seen its business boom because of COVID-19, and they've made a huge investment in transforming their legacy environment in order to make it more cloud capable and scalable. Normally, those are the types of things that people leave to last, because it is more complicated and complex, but businesses are beginning to realise that if you find the right partner, who knows how to do it then they can take you there," said Pawlyszyn.
The dynamic executive also said that one other thing the cloud has also taught us is you don't have to have a partner sitting next door to you in Riyadh, or Abu Dhabi.
"We've been implementing complex modernisation programs using remote global teams, which if you tried to sell to a client six months ago, they would've said, 'Are you nuts'? We're currently in the middle of delivering complex modernisation programs remotely, where the client is also split between countries because some employees have been caught overseas, but I've had the luxury of being able to pick the best people, whether they are in the US, Europe, or the Middle East, and the clients are loving it because they realise that if you work with a partner that has real process, tools and experience then they are the ones that adapt quicker to new modes of working," said Pawlyszyn.
One other key component of Rackspace Technology's diverse offering is the fact that they have the capabilities to run their own private cloud data centers, which enables them to know what it means from a management perspective to have a hybrid environment.
"We can move our clients data centers into an OPEX model, which essentially means that while they're scaling down they are still getting the benefits of being on the cloud, so rather than having to go out and refresh equipment, which they might only need for 18 months, we put them onto our private cloud in their data center, and as it winds down they only pay for what they use. It's a consumption-based model across all our platforms, including private cloud, which a lot of businesses don't realise we do. However, it's important to stress that multi-cloud is only useful if you can get the benefits from it," said Pawlyszyn.
Pawlyszyn then spoke about the growing trend towards serverless computing, explaining not only what it entails, but why there is such a demand for it within the ICT ecosystem.
"You've got physical machines, virtual machines and then functions, and functions operate as if there are no servers, so you're literally just paying for the usage that those functions are consuming. What quite a lot of people do is take physical servers and replicate that on the cloud, but that's the least efficient way of doing it. People who are using virtual machines will buy virtual machines on the cloud, now they might not have a choice because their applications have to be recoded to go serverless, but it's what they call cloud native, but most people nowadays are on virtual machines. However, the most cost-effective way for people that have variability is serverless," said Pawlyszyn.
Pawlyszyn concluded a superb and wide-ranging interview by illustrating why Rackspace Technology continues to go from strength-to-strength and what ultimately differentiates the company from its market rivals.
"I think what differentiates us is the fact that we're truly a multi-cloud company. We can design, architect and migrate you to the public or private cloud. If you just want to do some co-location, then we can help you with that, if you want us to help you design your end state DevOps organisation and transform your applications and then migrate and manage them onto the cloud then we can do that too. All the large SI's will say they can do this, but we can do it faster and cheaper, and the reason we can do that is we don't have the overheads. Our agility and the attention we give our clients is ultimately what differentiates us from our market rivals. We're a pure-play cloud company, and we're only tied to our customers success," said Pawlyszyn.