CNME Editor Mark Forker managed to secure an exclusive interview with Syed Shahan, Founder of TouchForce, to find out the inspiration behind the creation of the company and how it is positioned itself to help companies in the Middle East to become empowered through the utilisation of emerging technologies.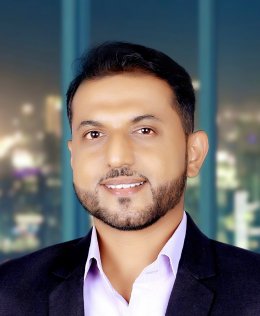 GITEX Technology Week 2020 was the setting for my discussion with the serial entrepreneur, who firmly believes TouchForce is destined to have a seismic impact on the ICT ecosystem here in the Middle East region.
It has been well documented that out of every crisis comes opportunity and that was certainly the motive for Shahan, who conceded that his new company was formed as a direct result of the COVID-19 pandemic.
"TouchForce was born out of the COVID-19 pandemic, and it is our vision to empower companies through technology and solutions which will ultimately enhance productivity. The best way to do this is to bring in technologies from the rest of the world into the GCC region – and there has been a demand to bring in technologies that creates a lot of value-add for the enterprises located in the region, especially in the UAE", said Shahan.
Shahan reinforced the point that their motto was to empower companies through technology and that it was their responsibility to join the dots and bring value to enterprises.
"We have a plethora of solutions that includes AI, drone technology and performance monitoring solutions. We believe that it is not going to be a case of work from home, but instead work from anywhere. However, I do think we need to be very cautious in terms of how we empower staff, clients and vendor partners to make this journey a seamless one, and that's where TouchForce comes in and brings real tangible value to enterprises in the GCC region", said Shahan.
The charismatic entrepreneur added that if you examined the work from anywhere or working from home model over the last 6 months, then the one factor that has become prevalent for all businesses is the desire to ensure that customer experience is always at its best.
"If you do not have the tools to do deliver customer excellence in this current climate then you're going to struggle. Somebody needs to identify that gap and then proceed to bring razor sharp technologies into organisations that empowers their customer service offerings. The most valuable and crucial aspect for every business in this on-demand digital economy is customer service, and you've got to be able to tick all those boxes to be successful, and again this is where TouchForce adds value and helps you to achieve this", said Shahan.
The Founder of TouchForce said that two key priorities for many businesses was how to tackle revenue leakage and productivity.
"Revenue leakage and productivity are major challenges for enterprises in this current business environment. For example, we are working very closely with some major banks, and if they are scaling from 25 million customers to 100 million customers in the next 2-3 years then one key priority for them is that every employee in their organisation is top of their game in terms of performance, but how do you identify that. You need visibility on the entire landscape, and we have the technology to do that", said Shahan.
He added that all their technologies are AI-powered and that they are all designed with self-learning and machine learning capabilities, which inevitably over a certain period of time makes them intelligent.
"These solutions enable organisation to realise that they are getting predictive analysis of what might happen in their organisation if their architecture or infrastructure has some changes", said Shahan.
According to Shahan, TouchForce knows the pain points in the majority of cases for business, and highlighted the unique capabilities of Israeli security company Neurolegion.
"We work with an Israeli company called Neurolegion, which is the only dynamic application security testing entity in the world. They have a purpose built DaaS solution, which is targeted at application security, developers' and DevOps. Now everybody does application testing, but they bring in API security testing. It gives organisations like banks and e-commerce player the opportunity to define what industry they are from. However, incredibly this technology automatically does that, and it also even identifies the business logic vulnerabilities, and this technology does that and we are now in the Middle East doing that. This gives organisations the wow factor to please its customers", concluded Shahan.