Digital Enterprise Management Specialist, GCG Enterprise Solutions, recently added a powerful new ally to its business digitalisation strategy by signing on innovative process platform creator Nintex.
For any enterprise solutions provider that promises their clients a leading position in today's digitalised business world, the need to stay ahead of the technological game is essential. In early 2020, GCG Enterprise Solutions, a leading business process and information management specialist in Dubai, launched an exciting new strategy focused on digital transformation. Their mission – to make business easier for their clients.
BUSINESS MADE EASY
To stay on track with their long term vision of a digital business world, the company embraces a convention of regular portfolio enrichment, so it was only natural for GCG Enterprise Solutions to sign a major partnership with NINTEX, a world leader in end-to-end process management and workflow automation solution provider.
Nintex is committed to improving how people work with process management and automation software solutions that are both powerful and easy to use, sharing GCG Enterprise Solutions' vision in delivering the best solutions to clients and supporting them in their digitisation journey.
Nintex will allow GCG Enterprise Solutions to accelerate the digital transformation of their clients' businesses with a platform that manages, automates, and optimises business processes of nearly every business function.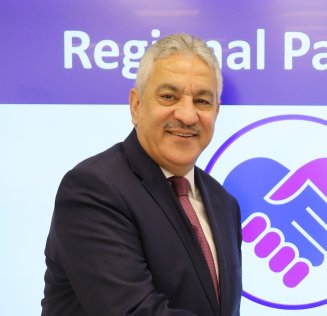 Says Naser Darwazeh, General Manager – GCG Enterprise Solutions, "Digital process management and business automation are both big-step solutions to enable better business management. So we're excited to be putting the power of automation into the hands of our corporate clients with the support of new partners and area leaders like Nintex – leading their journey to a more efficient business and paperless operations".
"GCG established itself as a fast-growing national company early on, and we are pleased to join forces with to drive Excellence around workflow automation capabilities and create excellent client and employee experiences while accelerating digital transformation journey for businesses. We look forward to deliver high-performance solutions to our customers in the UAE'', Says Ayman El Hattab, Senior Director – Growth Markets at Nintex
MORE THAN 10,000 SATISFIED ORGANISATIONS IN EVERY MAJOR INDUSTRY
GCG Enterprise Solutions invites business leaders to join more than 10,000 satisfied organisations in every major industry with an efficient digital business using the Nintex platform.