CNME Editor Mark Forker spoke to Ghazi Atallah, CEO at NXN, a digital service provider that has positioned itself as a real agent of change for enterprises and governments seeking smart and digital transformation.
In a compelling interview, Atallah articulates how NXN's ability to remove the complexity involved in digital transformation journeys by simplifying and accelerating the process is ultimately what differentiates the innovative company from its rivals. In addition to this, he highlights the capabilities of its cutting-edge and award-winning digital transformation platform DNX – and outlines his plans for geographical expansion in 2020 – following the phenomenal success of NXN in the MENA region.
Digital leader:
The charismatic figurehead of NXN stated that the reason the digital service provider has become the market incumbent in relation to executing digital transformation projects is largely down to its business model.
"NXN is the leading digital service provider in the region, and we don't mince our words when we say that. We're not only the leading provider in the region, but we're also extremely unique in the sense that as a service provider you want to simplify and accelerate for your customers. You don't want to add complexity or engage in long-term projects that don't deliver the right outcomes," says Atallah.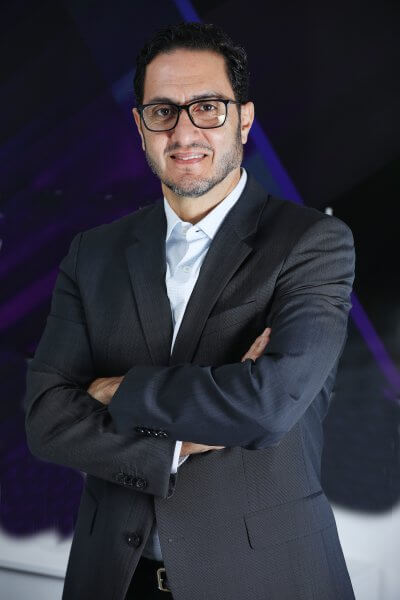 "Our objective is to simplify the relationship with the customer and to accelerate the customer's transformation journey. We're able to achieve success because our service provider model is completely unique, and we're truly the only fully-fledged digital service provider in the region."
Expertise:
The uniqueness of NXN's business model is that they're able to fuse all their technological, consulting and data science expertise to ensure that their customers are clear in what exactly it is that they want to achieve from digitising their processes.
"What we do is address the technology component through our DNX platform, and we also bring in our consulting team to work with the customers as part of an effort to better understand the customers needs and then plan out their transformation journey with them. We also onboard our data science team which helps them to organise, orchestrate and make sense of their data to ultimately make better informed business decisions," says Atallah.
"Our technology team integrates DNX into the customers environment which helps simplify and connect everything. Once we've established a clear picture and understand where we want to go in terms of use-cases and their transformation goals, then our software team comes onboard to develop these use-cases. This is our main value proposition and why we say that we're the only true digital service provider in the region."
Customer-centricity:
According to NXN's CEO one other key component of its incredible success is its customer-centricity, as he explains they're not an SI that sells hardware or software. NXN is a service provider that is invested with their customers on a multi-year business model that is fundamentally based on a partnership ethos. Atallah explains, "We help the customer to plan what they need, build what they need, and we help them manage it on an ongoing basis with a very flexible commercial model which makes what we do even more unique."
Addressing Customer Complexities:
NXN's customers are predominantly smart digital cities or digital governments, which are typically very complex environments. However, according to Atallah this enables NXN to be able to have a bigger impact because the environment is complex.
"In these environments, traditional transformation projects take several years, but we can shorten this through our ability to do this in weeks or months depending on what is the outcome that is sought by the customer."
Driving use-cases:
As aforementioned above NXN can deliver use-cases for its customers within a matter of weeks and will have a full transformation masterplan in place within months which will be integrated into its digital platform. However, a recurring theme throughout this discussion is to simplify and accelerate. But what does simplify and accelerate mean when it comes to digital transformation?
"Our message is very clear. Our primary objective is to help our customers simplify and accelerate. The simplification part consists of understanding what the customer has, what they want to integrate and then develop a plan with them to execute their main objectives and goals. The acceleration part sees us engage with the customer to integrate their environment through our DNX platform in a bid to accelerate the development of use- cases," says Atallah.
NXN are direct when conveying the message to their customers that it is critical you establish a digital transformation masterplan if you want to transform. "If you're building a new city then you're not going to build it without a masterplan. You can't embark on a transformation exercise without a robust masterplan in place that outlines the key milestones in a roadmap," says Atallah.
Data visibility:
Atallah explains that following the planning consultation process, the second part of the digital transformation project always revolves around data. Data is a common challenge for NXN's customers.
"Firstly, then don't really know what data they have. They don't have clear view of what data exists within the organisation, nor do they know its quality or readiness. If you want to evolve from turning data into information and insights to make better informed business decisions' then you need to have clear visibility of your data and this is what we provide with our data science and practices team," says Atallah.
He added that NXN's approach was to start from the bottom to understand their customers data and perform a quick snapshot of the current state of data within the organisation to help set out data standards and policies in a bid to evolve the quality of the data at the organisations disposal.
Educating customers:
The other challenge NXN encounter with their customers is from a technology perspective. As already highlighted above AI, blockchain and Internet of Things are dominating the discussion in the current tech climate, and companies want to integrate all this disruptive technology into their existing operations now, but as Atallah explains that this desire to infuse all that technology at once can blur their vision.
"Customers come to us and they say I want an AI platform, an IoT platform and a blockchain platform, but this mindset makes it then quite difficult for the customers to have a birds-eye view of what they really want to do," says Atallah. "There is a knowledge exchange process involved as we explain the concept behind the DNX platform. We outline to them what DNX can bring into their environment and integrate it, in order to provide the technology infrastructure required to accelerate digital transformation. What we do is basically help them simplify their technology environment."
Geographical Expansion:
NXN's primary market is the MENA region and the digital services provider has physical offices in the UAE, Saudi Arabia and Kuwait which represents their three most important marketplaces. The company is visible all over the GCC and has specific engagements in Egypt and Jordan as well as strategic projects in Qatar and Oman.
NXN's vision has resulted in it being the leading digital services provider in the Middle East, but he is ambitious
and has expressed a desire to 29 expand his company's footprint on a global scale, highlighting how its model is not a regional one, but instead a global model.
He said, "We're focused on geographical expansion. The type of expertise and capabilities we bring to the table is unrivalled and has resulted in a huge upsurge in interest from other countries who want to adopt our platform."
One such country is Canada and the NXN CEO revealed that the company is already rolling out services in the country. "We're using our platform to rollout smart services in Canada in partnership with key players such as telecommunications operator TELUS. We're also getting pulled into Europe and other countries so geographical expansion is something we're really focused on. What we have is not a regional model, it's global," says Atallah.