David Shi, President of Huawei Enterprise Business Group, Middle East, has claimed that collaboration is key to accelerating industry-wide innovation, in a candid interview with CNME Editor Mark Forker.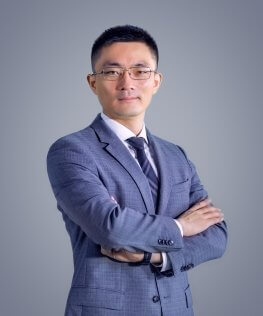 Huawei's Enterprise Business Group has been responsible for pioneering innovation and growth since entering the ME region. Can you give us a comprehensive overview of the group's future strategy for the next 'digital decade'?
Digital transformation is the biggest trend at present, which will continue for the foreseeable future. The world around us is embracing next-generation technologies more and more, and the COVID-19 pandemic has only accelerated the process.
Things have changed rapidly since early 2020; there was a sudden shift towards remote working and learning, and many industries had to evolve practically overnight in order to meet the needs of a socially distanced world. Some are still evolving. The ICT ecosystem has never been more in the spotlight as a result of this.
Huawei believes in the importance of collaboration, and we've been an early advocate for open ICT ecosystems, collaboration, and transparent industry standards that can facilitate industry-wide innovation.
Companies need to implement a collaborative, ecosystem-based innovation strategy if they are to emerge as global technological leaders through digital transformation. As a leader in the field of ICT, Huawei recognises that the success of digital transformation is dependent upon partnerships between key stakeholders, such as government, private enterprises, education, and ICT providers. Synergy throughout the ecosystem will enable a faster transition into the next digital decade.
In 2020, as 5G has been rolled out at scale worldwide, connectivity, cloud, AI, computing, and industrial applications have all come together to create unprecedented opportunities for the ICT sector.
Therefore, at Huawei, we believe that the ICT industry needs to focus on creating new value with synergy across five key tech domains. We firmly believe that the tremendous potential of digital transformation can be unleashed on the basis of synergy across five tech domains, in which connectivity, cloud computing, AI and applications develop with the power of 5G in ways never seen before.
These five tech domains will create unprecedented opportunities for governments and enterprises in the region. The synergy among these five domains will enable more efficiency and productivity, bringing many industries into the Fourth Industrial Revolution and allowing them to thrive based on their digital capabilities.
The COVID-19 pandemic sparked huge digitalisation across the Middle East. What role did Huawei's technologies play in these sectors responding to new market challenges?
The world and this region have come together now more than ever before to defeat a common threat sparked by the pandemic and one area where this spirit of cooperation is absolutely pivotal is in the development of the Middle East's digital economy.
Governments and analysts across the region recognise that increased digitalisation will boost manufacturing, lead to enhanced healthcare, promote environmental sustainability, and result in many other substantial benefits.
Some of the key technologies that have played a key role in industry digital transformation are 5G, AI, cloud computing, and big data.
Huawei worked alongside its partners to implement these technologies at scale to ensure business continuity, support people's day-to-day lives, and most importantly, empower governments to fight against the pandemic. For example, globally, AI was applied to support financial anti-fraud, shortening the risk warning time to mere minutes as people relied more on digital payments instead of cash.
AI-based thermal scanning also helped create efficiencies in monitoring the temperatures of customers or visitors of any public space.
Over the last year, we have worked with leading organisations across various industries in the Middle East to develop and deploy new ICT solutions. This has included implementations for Ankabut, DIFC, and Emirates Group Security in the UAE, and entities like Smart City Solutions Company (SC2) in KSA and many others throughout the region.
All walks of life have been forced to overhaul their lifestyle and work habits, including nearly every industry within the Middle East. Such transitions could not have been possible without the proliferation of cloud-based services, which have enabled enterprises to swiftly alter their business models to catch up with the rapid pace of changes.
Organisations have turned to Huawei in part because we have also brought many new innovations to the market. In vertical industries like education, for example, we expanded our Smart Education portfolio last year to enhance teaching, learning, research, management, and support services.
In technology solution areas like networking, we also unveiled our CloudCampus 2.0 solution with enhanced connectivity, experience, and O&M to help enterprises of all sizes to build fully-wireless smart campus networks and accelerate the connectivity of everything in enterprise campuses.
We also launched our autonomous data centre network solution for customers in the Middle East at the end of 2020, offering an upgraded solution that delivers high-density autonomous driving, 400GE super capacity, and zero-packet-loss intelligent experience.
Huawei is very well-positioned to support businesses and governments in their digital transformation journey. Currently, 253 global companies featured in the Fortune 500 list have chosen Huawei as their digital transformation partner.
Our Enterprise Business Group has more than 28,000 global partners, and Huawei has helped more than 200 cities around the world implement smart city projects. Furthermore, Huawei has been recognised as a technology leader by the likes of Gartner and IDC.
We were recently named as the 2020 Gartner Peer Insights Customers' Choice for Data Centre and Cloud Networking for our CloudFabric Data Centre Network (DCN) Solution.
The UAE celebrates its 50th year as a nation. Huawei has played a key role in helping the UAE become a bastion of technological progress, but what role will it play in helping the country shape its digital economy for the next 50?
The UAE's leaders have a very strong vision for the future of the country, and technology is at the heart of their plans. Huawei is honoured and humbled to work closely with several UAE government entities, private enterprises, and telecom operators.
Some of our recent projects include Ankabut, Dubai International Financial Centre, Dubai Municipality, Abu Dhabi Municipality, and Emirates Group Security, among many others.
We have also rolled out various initiatives like the Seeds of the Future, Middle East ICT Competition, and ICT Academies, driven by our vision to develop a healthy talent ecosystem that can support the UAE ICT industry's rapid growth.
There are currently eight Huawei ICT Academies in the UAE established in partnership with leading academic institutions and providing students with the opportunity to become certified in technologies such as AI, cloud computing, and so on. In the past 20 years, we've helped the Middle East to cultivate at least 100,000 ICT talents.
In late 2020, Huawei also appointed Aloysius Cheang as the inaugural Chief Security Officer (CSO) of Huawei UAE. This appointment came in line with our goal to build a digitally secure future for the country in partnership with our customers in the public and private sector.
The ICT industry is transforming at a very rapid pace, so while we can't predict exactly what technology we will be using 50 years from now, we do know that it will contribute towards creating an intelligent society that is empowered by connectivity, providing more convenience, efficiency, and productivity throughout all aspects of our lives and across industries such as education, finance, aviation, energy, and more.
A collaborative approach is needed in order to establish a robust digital economy. Strong ICT capabilities on a national scale will empower widespread digital transformation, and the best way to achieve this is by fostering a technology culture that is open and transparent, allowing for greater progress, development, and innovation.
Huawei will continue to pursue open partnerships with its customers and partners to help industries go digital and make life better, businesses smarter, and the world more inclusive.
As mentioned, looking to the decades ahead, we also see a massive convergence of opportunities across five tech domains: connectivity, cloud, AI, computing, and industry applications. These elements have all come together to create unprecedented opportunities for the ICT sector but also enterprises and governments in the UAE and around the world.
Over the coming years, it will be critical to focus on applying these technologies to help enterprises grow their businesses and help governments to achieve their strategic goals. By leveraging synergy across the five tech domains, Huawei will continue building a robust digital ecosystem that creates new value for industries.