CNME Editor Mark Forker managed to secure an exclusive interview with
CP Gurnani, Managing Director and CEO, Tech Mahindra, to find out the company's vision on sustainability, determining if profitability and sustainability can coincide together – and the impact 5G will have on the digital economy.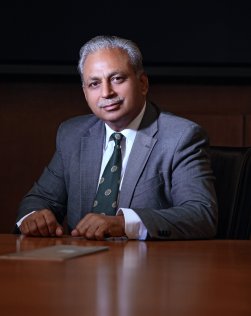 Global enterprises are beginning to prioritise sustainability much, much more in their business strategy as part of their efforts to curtail the devastating effects of climate change. However, what steps have Tech Mahindra taken in terms of their approach to sustainability?
In this age of Digital Transformation, there has been a clear shift in business priorities from being just 'profitable' to driving a 'positive social impact'. The age of social media and heightened public scrutiny has added further steam to this.
The focus now is on 'Triple Bottom Line (TBL): profit, people, and the planet
Ensuring sustainability requires persistence. At Tech Mahindra, we are committed to pursue plans that will have long-term impacts on the communities and will lead to a balance between sustainability and overall business profitability.
As a responsible business entity, Tech Mahindra concentrates on integrating sustainability into all aspects of the business and develops strategies for Environmental, Social and Governance (ESG).
The company has undertaken a thoughtful and comprehensive program to reduce its absolute scopes 1 and 2 GHG (Greenhouse Gas) emissions 22% by 2030 and 50% by 2050, from a 2016 base-year.
Tech Mahindra aims to leverage technology enabled green solutions to tread on the path of responsible growth and is actively engaged in various Smart cities projects to undertake a modernisation drive.
Our sustainability practices and initiatives in our journey towards a zero-carbon economy include, implementing an internal carbon pricing, achieving approved science-based targets, investing in green technology solutions, inducting our associates to spread advocacy and awareness of climate change, and encouraging green activities in their professional and personal lives.
Some of the other sustainability initiatives include reducing water and energy consumption across buildings, waste reduction, using renewable sources of energy for power generation, achieving carbon neutrality, making supply chains sustainable, and employee and customer engagement.
With a structured stakeholder programme, Tech Mahindra has been able to design strategies and initiatives to build solutions, which not just improve its sustainability credentials but reinforce the overall business philosophy too. ​
Sustainability is perceived to be expensive, and some climate change activists believe that whilst many enterprises are talking a good game when it comes to sustainability, they are still not doing enough. Do you think sustainability is expensive, or can it co-exist with profitability – and are global entities doing enough when it comes to their strategy on sustainability?
Profitability and sustainability are not conflicting goals; in fact, they must go hand-in-hand to achieve an equitable economic growth. Today, the emphasis placed by many organisations on Corporate Social Responsibility (CSR), is proof of the realisation that progress is most achievable in an inclusive society and shouldering the responsibility collectively is of utmost importance.
COVID-19 has allowed all of us to reconfigure our priorities and understand the importance of building a sustainable world – by focusing on healthcare and leveraging technology to enable new ways of working.
At Tech Mahindra, we are committed towards building a sustainable business with responsibility and by creating value for our stakeholders, while also keeping in mind the long-term impacts on the environment. It is time to focus on and implement technology-led solutions that will help us reboot.
In June last year, Tech Mahindra signed a UN (United Nations) Global Compact Initiative Statement on climate action reiterating our commitment towards carbon neutrality and calls for a net-zero recovery from COVID-19.
Tech Mahindra reaffirms the science-based commitment of achieving net-zero carbon emissions while calling on governments to "prioritise a faster and fairer transition from a grey to a green economy".
By moving towards a zero-carbon resilient economy, Tech Mahindra aims to reduce carbon footprint, emissions and will conserve energy using new-age technologies like internet of things, artificial intelligence and blockchain.
Furthermore, an internal carbon price of $10/ton CO2 has also been implemented by us to boost green investments and we have also adopted a low emission technology path to increase the use of renewable energy from 1.7% in 2016 to 18% in 2020. Moreover, at Tech Mahindra has also taken targets to increase the renewable source of energy to 50% by 2025.
Tech Mahindra has joined 155 global companies in calling for policies that will build resilience against future shocks by supporting efforts to hold global temperature rise to within 1.5°C above pre-industrial levels, in line with reaching net-zero emissions well before 2050.
You have been a prolific attendee of the World Economic Forum over the years, but it has had its critics over the years. But in your opinion, how important is the World Economic Forum in terms of being a think-tank that can reshape the world and help us develop new ideas to overcome some of the most pressing challenges facing the world today?
It is a forum to highlight and reiterate global issues that impact the world. As an Economic Forum it attracts corporate leaders who are able to contribute towards bringing about change.
We are able to take stock of how we met our commitments or fell short and dedicate the year ahead to improving the standard.
Qualcomm CEO, Steve Mollenkopf, said that 5G will have the same impact on the world as the introduction of electricity. What impact do you foresee 5G having on the global economy, and when can we expect to see it become commercially deployed on a widescale basis in cities such as Dubai, London and New York?
5G will be the lighthouse that will guide us in navigating the uncharted waters of Digital Transformation and Industry 4.0. In this voyage, Tech Mahindra will be an eager partner for all CSPs (Communication Service Providers) that want to accelerate 5G adoption and re-imagine the enterprises' journey to the future of connectivity.
5G will be the glue that will bind the digital future and bring in immense growth in fields of medicine, agriculture, education.
To me, 5G represents opportunities for transformation and early adopters will reap the benefits. In the Middle East, we see 5G as a big bet with our focus on Networks of the Future.
5G will open up a plethora of possibilities, and preparations for the same are underway. The world is keenly looking forward to 5G roll out and it is expected to happen soon.
Tech Mahindra has enjoyed phenomenal success since its inception in 1986. In your expert opinion, what is that differentiates Tech Mahindra from its rivals and how has it managed to sustain its success over such a long period of time in an ultra-competitive environment?
We are the digital change makers and we are here to disrupt old ideas, blaze new trails and create connected experiences for a connected world.
We will continue to RISE to be an agile, customer-centric and purpose-led company delivering best-in-class technology led business solutions for our stakeholders.
Our leadership team leads from the front.
We believe in localisation and have a strong presence in the geographies where we do business. Here in the Middle East, we are in all six GCC (countries and have 2500 resources in the region.
A huge focus on localisation across all countries translates to increased local talent hiring, local investments and a focus on CSR. The 'Think Global, Act Local' mantra in practice has brought dividends wherever we are and we have a footprint across the globe.