Author: Hassan Imtiazi- Founder & CEO – AIDA Digital UK
COVID-19 has affected many industries adversely but one which saw substantial growth is online E-commerce. Although many workers in the UAE lost their jobs, the others were forced to cut down on their household expenses. During the pandemic shopping using smartphone increased by 53% and half of which is due to purchasing groceries online. So COVID-19 has accelerated the process of digital transformation and many corporates, SME's, Banks and retail sector have been forced to adapt. Digital disruption is now big buzz word and Companies who embrace digital will survive in the future.
Amazon & Noon are fighting for their market share in Middle East. MENA is now big market where 450 million potential online customers reside. Amazon bought Souq.com, the Dubai-based online retailer, for $580 million in 2017. Additionally, developed logistics infrastructure, financial structure and support for digital payments, increased retailers' adoption of e-commerce platforms and government policies which support innovation and entrepreneurial activities are all drivers for e-commerce.
"It is interesting to see how MENA market is catching up when it comes to online consumers in comparison to UK and US markets. Taking the example of Amazon, it is still at an initial stage as we see lot of new vendors coming with only a few hundred reviews, but the overall market looks promising. Anyone who embarks on their Amazon journey in MENA will get an early movers' advantage", said Hassan Imtiazi- Founder & CEO – AIDA Digital UK.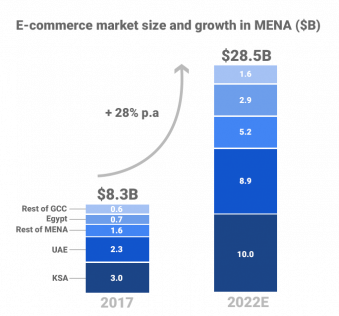 According to Google and Bain & Co the e-commerce market in the Middle East and North Africa is expected to triple in size to $28.5 billion by 2022. The market already reached $8.3 billion in 2017 and has grown by 25% annually since 2014 when the market's size was $4.2 billion.
Companies need to adapt with emerging technologies and get the right staff with ICT and tech skills. A mobile first approach with innovative ideas are the only way to survive during these hard times.