CNME Editor Mark Forker spoke to Walid Yehia, Senior Director Pre-Sales for Infrastructure Solutions Group, MERAT, Dell Technologies, to find out more about their strategy for the diversification of their product portfolio, the challenges facing enterprises adopting cloud technologies– and how businesses need to create a culture of innovation to succeed in today's digital economy.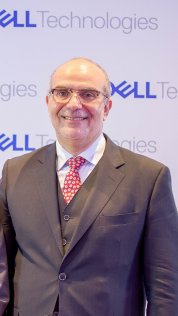 Dell Technologies is one of the world's leading IT and technology companies and customer-centricity is at the very core of what they do. The company has enjoyed more growth in the MERAT region over the last 12 months, and as Yehia pointed out, Dell Technologies, always tailor their solutions and products to address the specific needs of their customers.
"Our strategy is all about addressing key issues for both the current market demands, and the future requirements for businesses in the digital economy. Like any other leader in the technology space, we are always thinking about what is coming ahead, but at the same time we want to keep innovating for what the market is demanding. We have a very diverse and broad product portfolio at Dell Technologies, and we are determined to be the leader in every product area, but there is also a very diverse set of needs from the market from the edge-to-the-core, and to the cloud – and it is our job to equip our customers with the tools and solutions required for them to overcome challenges", said Yehia.
However, Yehia caveated that point by highlighting that despite focusing on the current needs of the market in today's volatile and ever-evolving digital economy, Dell is always looking to the future, and disclosed six key areas the IT leader intends to invest heavily in over the next few years.
"At Dell Technologies, we are always looking to the future, and we have already selected six key areas of investment for us in terms of our R&D strategy going forward. The investment areas are centred around multi-cloud, 5G, data management, Edge computing, security, AI and Machine Learning. Our portfolio at its core is customer-driven, and we are investing significantly in making our products more intelligent by embedding AI algorithms into our solutions to empower our customers to be able to work more effectively and efficiently", said Yehia.
There has been a significant shift towards the cloud since the establishment of datacenters by Microsoft in Dubai and Abu Dhabi in 2019, but the COVID-19 pandemic really accelerated the movement towards cloud technologies.
There has been a lot of debate in the IT ecosystem as to which cloud model should be adopted to ensure success, but there is a very clear sense of direction in relation to the cloud for Dell Technologies.
"At Dell, we do believe that the future is multi-cloud, no single cloud, whether it is private, or public will be able to address the current customer needs. However, we believe that while you are moving towards a multi-cloud strategy you should maintain a unified experience for all your users, whether these are your developers, your IT operations, or even your end-users, it should be seamless and transparent", said Yehia.
Despite that demand for cloud technologies, what has become evident is that many enterprises are struggling to adapt to the demands of cloud transformation, and Yehia believes their choice of cloud strategy is the issue.
"Many businesses are struggling to adapt, because some of them will declare that they have a cloud-first strategy, but they are facing a lot of challenges because some of the workloads are just not suitable for public cloud. We are trying to create and develop technologies that will give our customers that single pane of control that will enable them to host their workloads either on their private, or public cloud, but with the same unified experience for its developers and IT operations. We collaborate with all the major players and have great relationships with Microsoft and AWS, and we believe there is room for everyone, but ultimately our vision is to make life for our customers much simpler", said Yehia.
The dynamic executive at Dell Technologies is regarded by many of his peers as a prominent thought leader, but he stressed the importance of strategy  in relation to the digital transformation journeys.
"The technology is there to drive digital transformation, but what I have observed of late is that strategy is for enterprises undergoing their business transformation journey – because digital transformation at the end of the day is all about business transformation. The lack of strategy and skills to innovate is a big challenge. If you examine all the digital leaders in the market today, they have a rock-solid strategy, and they know they have the skillset required to innovate. Innovation is all about re-thinking your entire business, it is not a technology exercise", said Yehia.
Yehia also highlighted the importance of having a 'culture' of innovation embedded within an organisation and said businesses cannot be afraid to fail.
"If you look at all successful businesses, they all have a culture of innovation, and the culture of innovation is all about not being afraid of exploring and sometimes failing fast. In the world of innovation, you cannot succeed every time, and you need to allow for failure, but you must fail fast because time and money are important. You also need the budget to innovate, but the budget can be tricky because if you measure your innovation ideas with the same KPIs for your well-established products in the market then that is going to be an inhibitor for you. If a CFO does not understand that innovation is a long-term cycle, then they might kill some of these products very early on", said Yehia.
He also pointed out that there were a lot of hidden costs in today's market and said that it was critical to reduce your overheads and speed up your time-to-market to create the capital needed to innovate on new products.
"If you look at where the cost is distributed today, the cost is not only in the acquisition of the product, but there is also a lot of hidden costs in the operations and in the time-to-market for products. Our philosophy is to innovate solutions that have the highest level of automation and intelligence that significantly reduces your overall costs and time-to-market. By modernising your infrastructure, you can save money and then take that capital and invest it in your innovation projects. IT budgets are not growing significantly, so the only way you can innovate is by saving money", said Yehia.