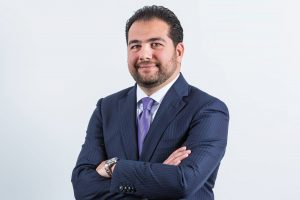 Taj El Khayat, regional director, Gulf, Levant and North Africa, F5 Networks, on the firm's plans to double the business in the lucrative security space over the next year and half through a dedicated partner strategy.
Smooth and seamless application performance equals to successful business continuity in today's mobile and cloud-led environment. Recognising the prospects early on, F5 Networks had entered the space with its initial load balancer product and eventually evolved its offerings to be an application delivery networking solutions provider over the last two decades. The company is now working towards doubling its security revenues by 50 percent in the next 18 months in an attempt to be also known for its security portfolio.
F5 Networks' recently appointed regional director for Gulf, Levant and North Africa, Taj El Khayat, says, along with the security mandate, he is steering three other key transitions, streamlining the firm's focus.
"Over the next year and half,
you will see us focusing on driving customer-first approach, pushing repeatable business and empowering our partners together with increasing our security revenues."
El Khayat says in order to meet these objectives, it is vital for partners' to take the centre stage.
With security as one of its primary focuses, the firm has increased its footprint with several new products
over the last few months. The aim is to strengthen relationships not only with networking managers but also with chief information security officers (CISOs).
"This is because traditionally 
we did not focus on this profile of customers. We are now hoping to have productive conversations with CISOs."
The vendor is also looking to leverage its expertise that it has built around F5 Labs, which are centres hosting multi-technology and is an active means for the firm to stay ahead of evolving security threats.
He adds, "We have security incident response teams and experts who ensure we react and protect users against threats in a proactive manner. We also have our own security operation centres around the world, where we analyse and understand developments from a security threat standpoint.
"We also enable our customers 
to be one step ahead in terms of protecting their business. We want
 to make sure that as a part of our security selling transition, we position our security solutions appropriately."
With a minimum of 50 percent attach rate, the regional director is confident of doubling the security revenues by involving its distributors and partners, and aiding them to understand the value of its application security platform.
"We work with our partners to help them consolidate their security vendors so that they are able to carry out more solution selling and leverage F5's strong install base."
When it comes to its customer- first focus, El Khayat believes partners can help by creating the "right level of honesty, integrity and partnership."
At the end of the day, it's
 the partners who own customer relationships. The vendor is looking to create "mutual trust" so that its channel ecosystem can help it get closer to new as well as existing customers.
He also adds that another 
way partners can help in forming consistent relationships with customers that the company doesn't manage is through repeatable businesses.
"The more subscription-based licensing that our channel partners sell, the more chances of these customers staying close to F5. Repeatable business will not be successful without the buy-in and adaptation of partners into these models."
Under its 'empowering partners' transition, the firm is aiming to increase the channel's engagement into its account mapping and planning sessions. It is working towards ensuring the company's offerings are embedded into partners' standard solution architecture.
El Khayat says, "Empowering partners is an area for improvement within F5. We are looking at ways
 in which we can leverage our application security platform into the way our partners go to market. Our efforts are also on enabling our channel community to deliver more professional services."
The firm also works closely with managed service providers and will continue driving this segment over the coming months.
El Khayat believes regional partners can enhance their profitability and margins through several ways. He urges partners to explore prospects in the managed services space. "Partners should look at helping vendors create a services platform so that end-users have an easier way to purchase technologies in a cost-effective manner," he says.
The channel also has a huge opportunity if they look at partnering with the telcos, he adds.
"Telcos are increasingly becoming competitive and entering into the systems integration 
space as they can offer one-stop shop for customers' connectivity requirements. Partners need to drive relationships with these telcos to ensure that there is a level of support on implementation and services to be able to do joint ventures.
"Today customers are seeking agile and flexible players to
work for them. However, not all systems integrators will have the means or infrastructures to create 'as-a-service' models so these partnerships work hand- in-hand to help SIs and telcos approach customers with the right propositions," he says.
As enterprises enter the digital era, application performance will dictate business longevity.
"Partners need to make sure they are working on these abilities and expertise with security. Our goal is to be known as the trusted application security vendor," adds El Khayat.