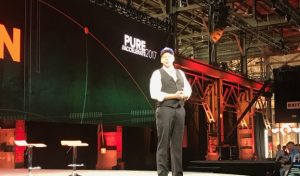 Pure Storage's second annual customer and partner event, Pure Accelerator 2017, taking place in an offbeat venue – abandoned warehouse – in San Francisco, had a number of software and product updates. Chief among them was the announcement of its new Purity//FA 5.0 software with the Active Cluster feature, which according to the firm extends availability to a higher level.
A key communication from the event, besides all the new releases, was how the company is prepared to clock in $1 billion revenues by this year-end with an objective to achieve $2 billion by 2020.
However, is the path to that journey one smooth ride? Speaking exclusively to Tahawul Tech, Scott Dietzen, CEO, Pure Storage, believes the biggest challenge will be around recruiting.
He says, "We have a gifted team and a strong corporate culture that people identify with. I worry about continuing to recruit the best and instilling that winning corporate culture across 30 countries around the world. Maintaining that excellence is going to be a tall order and that's what we got to focus on to be successful."
When it comes to enabling its channel partners to deliver on this ambitious goal, Dietzen says the firm is doing "everything possible" to make itself an ideal vendor.
"We are creating the opportunities for partners to build value-added services practice in and around our technology and platform. It is an easier equation for customers when they don't have to rip and replace a technology. When partners leverage that, they get a portion of the subscription business and can build their footprint over time just like Pure does."
According to the CEO what partners can be assured of is that the firm's solutions are much easier to learn compared to competitors.
"This frees up our partners to offer value-add aspects for customers as opposed to having to dedicate their best engineers on just configuring and setting up the solution," he adds.
Agreeing, David Hatfield, President, Pure Storage, adds that the transformation the channel organisations need to go through is to first understand that the company's solutions no longer demands implementation services.
"This means the services opportunity is around data migration and application performance. Partners need to focus on assessing the application agility. As storage has traditionally been a bottleneck for customers, we are encouraging our partners to examine where those challenges are and then ensure they are in a position to offer an ideal solution," he says.
The president says that he has also seen the channel ecosystem developing new services around application performance.
He adds, "It is all about moving up a level to offer value-added services versus lower margin, tactical implementation services. It takes a bit of modification but leads to repeatable business, better margins and higher revenues for partners."