The UAE government has been leading at the forefront of the digital transformation of the country and the region, and part of its success can be traced back to the continuous work of Abu Dhabi Digital Authority in providing world-class services to the Emirate's constituents. Deputy editor Giorgia Guantario sat down with, to discuss their upcoming event "Digital Next Summit" and the entity's digital agenda.
Digital transformation has become a necessity for leading organisations around the world and in the Middle East region to stay ahead of the game in today's digital economy. According to Gartner, nine out of ten corporate leaders view digital as a top priority – harnessing the power of new technology is not an option anymore, it's a must. In this time of transformation, the UAE government has been leading at the forefront of the digital transformation of the country and the region. The most recent report from the IMD World Competitiveness Centre shows that the UAE has achieved the rank of first place for the Arab Region in all three main factors of the report: "Technology", "Future Readiness", and "Knowledge".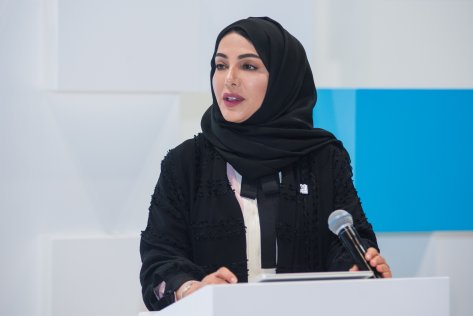 At the centre of these incredible achievements are the continuous efforts of government entities such as Abu Dhabi Digital Authority – established to lead excellence and innovation in government services delivered to the public by leveraging emerging technologies and technological expertise. ADDA is led by Her Excellency Dr Rauda Al-Saadi, Director General, who has extensive experience in the UAE public sector and technology. "ADDA's laudable vision", H.E. Dr Al- Saadi tells us, "is to raise the wellbeing of Abu Dhabi's citizens through service excellence and innovation."
"Our vision is to lead the digital future of Abu Dhabi. To do so, we work closely with government entities, as well as the big technology players in the private sector, leveraging their expertise when it comes to digital transformation. We are focused on providing a seamless customer experience for the citizens of our Emirate, and we believe that through world-class services, we will be able to raise the wellbeing of all the constituents of Abu Dhabi."
Digital transformation is however not a simple, nor straightforward process. 83 percent of organisations struggle to make meaningful progress on digital transformation, according to Gartner. H.E. Dr Al-Saadi is well aware of the challenges organisations and governments face when it comes to this. "In December we will hold our first-of-its-kind 'Digital Next Summit' event under the theme of 'Enabling Government of the Future'. We will bring together expertise and thought leadership to discuss four key areas around technological advancements and digital transformation. We will address the challenges that the public and private sectors face, as well as the opportunities arising from emerging technologies.
"The technology sector is moving at an unprecedented rate, and organisations are all trying to move as swiftly as possible to catch up. We have new technologies emerging on a daily basis, and ADDA understands the need to fully understand these technologies in order to accelerate the implementation of a digital agenda," continued H.E. Dr Al-Saadi.
The Digital Next Summit will focus on four key pillars of digital transformation and aims to foresee future trends and challenges of today's digital economy. The four thought-provoking dedicated tracks to accelerate digital transformation are called 'GX Next', focusing on the future of government services and citizens' 'Government Experience'; 'Technology Next', highlighting the common technology solutions governments can use to enhance their operations and efficiency; 'Cyber Next', which will explore the key issue of cyberattacks and what tools and process should be put in place to develop a strong cybersecurity eco-system; and finally, 'Data Next', discussing the undoubted importance of data for any organisations, and data-driven by new technologies such as Artificial Intelligence and Machine Learning.
H.E. Dr Al-Saadi added, "Within each pillar, there will be keynote speeches and several panel discussions, delivered by global experts and industry leaders. These will address different fundamental technical aspects that both the public and private sector should be aware of and act upon."
In addition to featuring an array of speakers from the technology private and public sector, the event also features a very unique group of Conference Advisors who gave their time to share knowledge and expertise for the successful realisation of the Summit.
These experts, explained H.E. Dr Al-Saadi, shared their knowledge and experience to shape the entire agenda and theme of the event. The advisory board includes well- known names such as H.E. Wesam Lootah, CEO of Smart Dubai and Khaled Al Melhi, CEO of Injazat – A Mubadala Company; as well as several key members of Abu Dhabi Digital Authority and industry leaders. The event, organised by Messe Frankfurt Middle East, will be held from December 8th to the 9th, but H.E. Dr Al-Saadi tells us the months building up to it have also been very exciting for ADDA, which has formed several partnerships with the private sector to leverage their expertise and deliver better services.
"The private sector is driving innovation in all aspects of our lives, not just in technology. Part of ADDA's mandate is to accelerate the digital agenda, and to do so we leverage innovative solutions and emerging technologies to simplify the lives of our citizens. The public and private sectors work hand-in-hand to do this. For example, our TAMM programme sees the support of both government entities and the private sector to provide end-to-end 'journeys' for all our customers' needs. This touches many aspects of their daily lives, from transport and health, to education and tourism; all are being enhanced and supported through innovative digital services. Today we have created 13 integrated journeys and integrated more than 90 services through our TAMM channels to meet the requirements of our citizens in a fast, proactive, convenient and personalised manner" explains H.E. Dr Al-Saadi.
"Abu Dhabi Digital Authority", H.E. Dr Al-Saadi explains, "is also pushing the boundaries of innovation by looking at how to leverage life-changing technologies such as Artificial Intelligence."
During GITEX Technology Week 2019, ADDA launched the first-ever AI Lab in Abu Dhabi in partnership with IBM, which offers high-performance computing abilities. The AI Lab has been made available for all Abu Dhabi government entities as a service to develop different use cases and to learn how to leverage the power of AI.
H.E. Dr Al-Saadi said, "We fully understand how important it is to understand and leverage new technologies. As well as establishing the first Abu Dhabi AI Lab, we also worked with IBM to conduct a full AI training program for government entities' employees. We have just completed a very successful first phase and are looking forward to moving onto the next one. The programme saw 80 percent of candidates completing it already, while the remaining 20 will complete it by the end of the year."
Innovation is clearly the core of ADDA's business and strategy, and as the leader of the Emirate's digital agenda, H.E. Dr Al-Saadi recognises the responsibility they have to provide cutting-edge solutions for the benefit of the Abu Dhabi government and its constituents. "Next year, we will continue developing our TAMM programme through more journeys, services, and platforms. In addition, we are also working very closely with the government entities to realise a data management program, which will include an open data platform, as well as continuing to work on exploring tangible use cases using AI and Blockchain technologies," concluded H.E. Dr Al-Saadi.
Find the Arabic version of the feature in CNME November issue.