CNME November 2019
Cloudhost co-founders Rajesh Sajnani and Nikhil Katara on their new innovative e-commerce platform, Cloudsouq
Microsoft on AI and cybersecurity
John Frank, VP of European Union Government Affairs at Microsoft, calls on technology providers to be more transparent in terms of the capabilities of their AI products.
The customer comes first
Joe Abi Akl, Acting Chief Corporate Development Officer at Majid Al Futtaim, discusses the digital transformation the company has underwent using Big Data & Analytics.
Leading the way on 5G standardisation
Alp Uysal, VP and Head of Strategy, Technology, Innovations and Government & Industrial Relations at Ericsson Middle East & Africa, discusses the company's approach to 5G.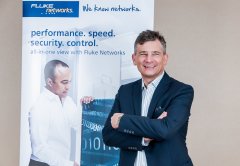 0
1428
Werner Heeren, Regional Sales Director at Fluke Networks, discusses what differentiates them from their competitors, the impact of new technologies …